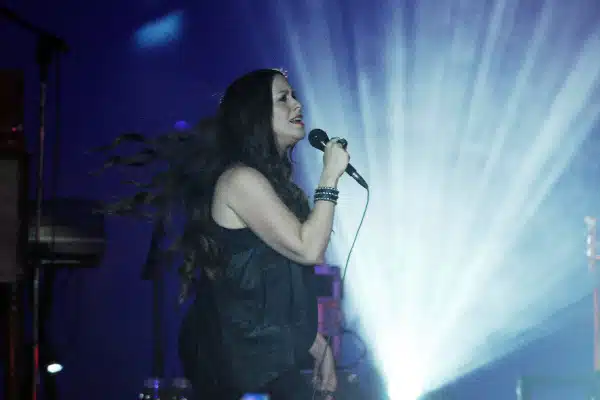 Would you like to listen to the article instead of reading it?
In a special tribute to Sinéad O'Connor, Alanis Morissette and Foo Fighters joined forces for a live cover of the late singer's track 'Madinka'.
Alanis Morissette joined Dave Grohl and co on stage during Foo Fighters' headlining performance at the Fuji Festival in Japan.
The pair performed the track, which originally featured on Sinéad O'Connor's debut album 'The Line And The Cobra', which arrived in 1987.
Reaching number 17 in the UK, the album also hit number 6 in Ireland, following its release.
Sinéad O'Connor passed away last week aged 56, after being found unresponsive at her home in London, according to the police.
Morissette Calls O'Connor "a very special person"
Before introducing Morissette to the stage, Dave Grohl told the audience beforehand, "We'd like to make tonight very special for you because it's nice to be back".
Adding, "So tonight, we're gonna do something that we've never done before, with someone that we love very much. We want an old friend to come up and sing with us tonight for a very special reason. Ladies and gentlemen, would you please welcome, to sing a song with us: miss Alanis Morissette".
Alanis Morissette has a longstanding relationship with Foo Fighters, having toured with the band, including the late Taylor Hawkins in the 1990s.
She dedicated the performance to O'Connor, calling her "a beautiful woman of high intelligence and deep empathy, way ahead of her time, who is no longer with us. This is for her".
You can check out the performance for yourselves below.
Following her death, a myriad of household names across the music industry and beyond have paid tribute to Sinéad O'Connor, including sharing covers of her tracks.
Last week, R.E.M frontman Michael Stipe shared his cover of O'Connor's track 'The Last Day Of Our Acquaintance'. Check that out for yourselves here.
Fans have also been sharing O'Connor's cover of Nirvana's 'All Apologies'. More on that here.