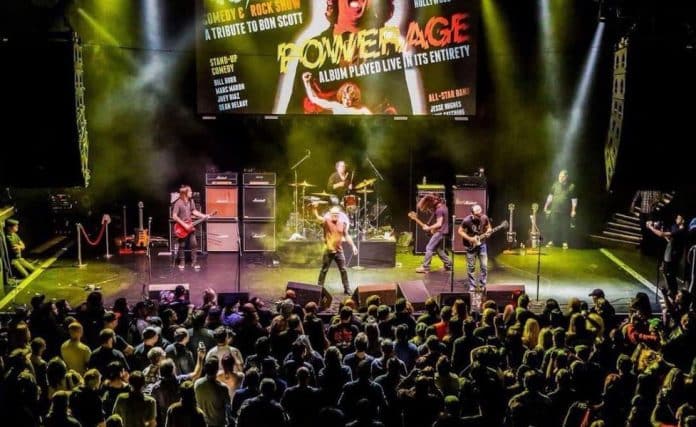 On April 3rd in the Avalon Hollywood nightclub, Rockers and Comedians got together for the AC/DC Comedy and Rock Show: A Tribute to Bon Scott which was organised by comedian Dean Delray and the show was split into two parts. The first was seated and featured Delray and fellow comedians Marc Maron, Bill Burr, and Joey Diaz.
Afterwards the seats were then removed to make room for a whole lotta noise. A month ahead of the anniversary of ACDC's fifth release Powerage, the album was played in full. With Delray on vocals, Maron on guitar and Burr on drums, the set featured a host of guest musicians. They were joined by Anthrax's guitarist Scott Ian, Velvet Revolver guitarist Dave Kushner and Black Crowes drummer Steve Gorman and Mötley Crüe's Nikki Sixx to name but a few.
Writing on Instagram Delray said: "We did the Powerage record and a few other favorites to round out the #acdc experience. If you are asking yourself did they play 'Live Wire' twice we do but one was by #acdc and 1 was by #motleycrue."
After the performance of Powerage, the band blasted through the title track from Let There Be Rock, Mötley Crüe's version of  'Live Wire'.
Afghan Whigs' Greg Dulli, led the all-star band through the closing song of the evening, the menacing "Night Prowler" from the Highway to Hell album.