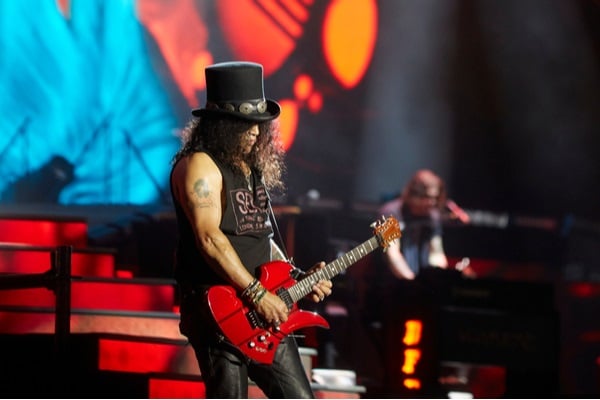 Would you like to listen to the article instead of reading it?
ZZ Top's Billy Gibbons joined Slash, Paul Rodgers and members the Allman Brothers Band for a live all star performance in honour of Lynyrd Skynyrd at the CMT Music Awards over the weekend.
Celebrating the band who marked the 50th anniversary of their debut album recently, this all star band performed a live rendition of classic Lynyrd Skynyrd track 'Simple Man'.
Introduced to the stage by Peter Frampton, this special all star band saw Paul Rodgers handle the vocals on this track, which was quickly followed with another special live performance of 'Sweet Home Alabama'.
Both live covers also included Slash and Billy Gibbons, who both delivered their customary guitar solos.
Allman Brothers Band members Warren Haynes and Chuck Leavell also joined the band on stage, with Leanne Rimes and Wyonna Judd as backing vocalists.
Check this out for yourselves below.
"inspired millions"
Introducing this all star band to the stage, Peter Frampton paid tribute to the late Lynyrd Skynyrd guitarist Gary Rossington.
Rossington passed away last month aged 71. He co founded Lynyrd Skynyrd alongside Larry Junstrum and Bob Burns in 1964.
"Gary not only helped define the band's sound, he inspired millions of fans and musicians", Frampton told the audience at the ceremony. "He's now joined his fellow Skynyrd bandmates in rock and roll heaven, but we will all enjoy their music forever". 
Following his death, household names across the world of music paid tribute to Rossington, including Billy Gibbons, and James Hetfield of Metallica to name a few.
Gibbons said, "Gary Rossington's loss is especially profound for us as we've spent countless hours in his company on tour and all points in between".
Hefield also added, "RIP Brother Gary. Thank you for bringing me so much joy with your guitar playing and songwriting in one of my all time favourite bands, Lynyrd Skynyrd". 
Find out more from Nova here.