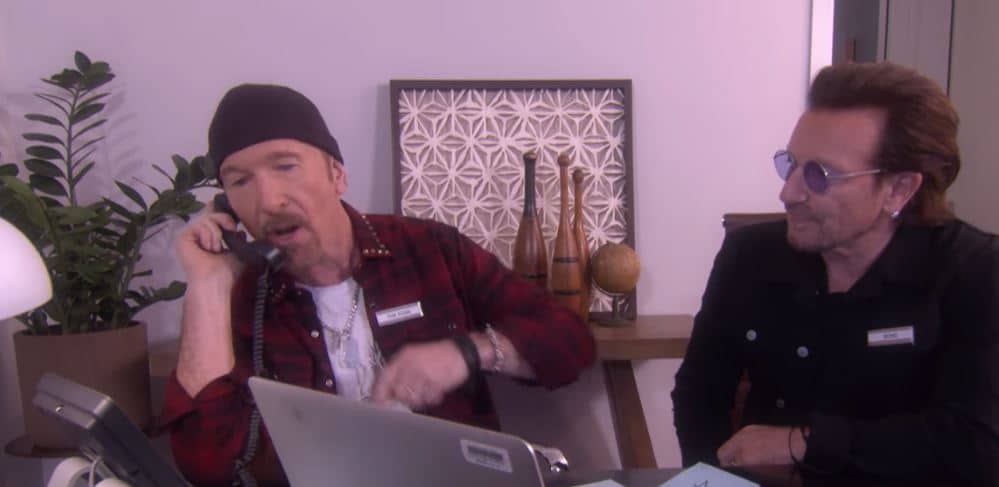 U2 were enlisted as Ellen's personal assistants this week. This was owing to the fact that Ellen's assistant was out sick and the assistant's assistant was also out sick. So 'the Bono' and the Edge agreed to help out, ordering soup and coffee and enduring Ellen's wrath.
As you can see from the videos, the TV presenter's anger was completely justified, thanks to the Bono's and Edge's incompetency at simple tasks. The two Irish rockers also spoke with Ellen about the band's history and how being in U2 saved Bono's life. All three videos are available below…
Meanwhile, this coming June, SiriusXM is hosting an exclusive invite only show featuring U2 at New York City's renowned Apollo Theater, The event marks one of their most intimate shows in recent years. Their show takes the band on a brief detour from their eXPERIENCE + iNNOCENCE Tour and will consist of material from their recent 14th studio album, Songs of Experience.
Bono said in a statement, 'New York City and the U2 band have a unique history. From the songs of Lou Reed, Billie Holiday and the Ramones that taught us how to listen, to the New Yorkers at our earliest U.S. shows who taught us how to play, the souls of New York and U2 have always been intertwined. The Apollo Theater is the heart of New York's musical soul, and to finally be playing our songs on the same stage where James Brown begged 'Please Please Please' is not only a bucket list moment, it's an incredible honor.'