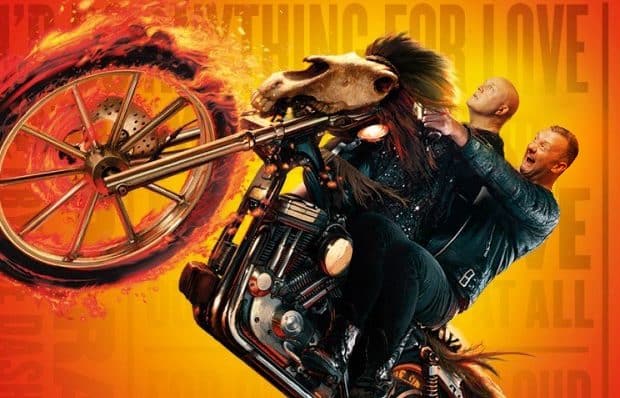 Want to be at the opening night of Bat Out of Hell – The Musical featuring the greatest hits of Jim Steinman & Meatloaf in Bord Gais Energy Theatre for 2 weeks from August 20?
You will also get to spend a night in Hard Rock Hotel, Dublin as part of this fantastic prize!
Tune in to PJ Gallagher and Jim McCabe on Morning Glory to hear some Meatloaf classics featured in the show. You then need to get creative and send PJ & Jim a video of you bringing a tune to life. Just like PJ here…
Send us your own creative entry via email [email protected] or
The boys will have some runner up tickets to the see the show and the MEATIEST most MARVELLOUS performance of the week wins a VIP opening night experience to see Bat Out of Hell – The Musical at the Bord Gais Energy Theatre with an overnight stay in The Hard Rock Hotel Dublin!
From the main reception and lobby, to the boldly funky Zampas Bar & Restaurant, the Hard Rock Hotel Dublin brings a polished, vivid and fresh design experience to Dublin city centre. Guests can also enjoy a complimentary self-guided memorabilia tour which features priceless pieces from artists such as David Bowie, Phil Lynott & The Rolling Stones and a specially curated art collection displayed throughout the building. And there's an array of signature brand offerings including The Sound of Your Stay music program, which lets you set the mood with a complimentary vinyl player and picks from the in-house record collection or you can rock out with an in-room jam session by requesting a Fender guitar, amp and headphones from the hotel's Vibe Manager.
Bat Out of Hell – The Musical wowed critics and public alike when it played limited seasons at Manchester Opera House, London Coliseum and London's Dominion Theatre from 2017 to 2019. The musical also ran successfully in Canada, Germany and at New York's City Centre in 2019. Bat Out of Hell – The Musical won the Radio 2 Audience Award for Best Musical at the Evening Standard Awards and was nominated for 8 WhatsOnStage Awards, including Best New Musical.
For the stage musical, the legendary and award-winning Jim Steinman incorporated iconic songs from the Bat Out of Hell albums, including You Took the Words Right Out of My Mouth, Bat Out of Hell, I Would Do Anything for Love (But I Won't Do That) and Two Out Of Three Ain't Bad, as well as two previously unreleased songs, What Part of My Body Hurts the Most and Not Allowed to Love.
In Bat Out of Hell – The Musical, the electrifying rock songs of Mr Steinman propel an epic story of rebellious youth and passion as Strat, the immortal leader of The Lost, has fallen in love with Raven, the beautiful daughter of the tyrannical ruler Falco.
PJ & Jim on Morning Glory 6-10 weekdays on Radio Nova want to make your rock and roll dreams come through 😉
Tickets from €21 for Bat Out of Hell – The Musical are on sale through Ticketmaster by clicking here