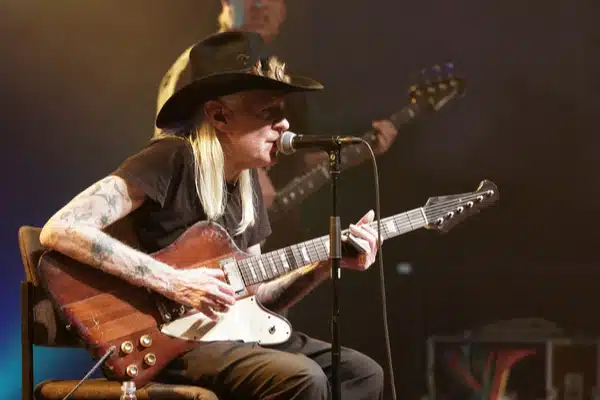 Prior to the launch of Season 3 of the AC/DC Beyond The Thunder podcast, its creators gave fans a special, bonus episode featuring Johnny Winter. Hosts Kurt Squiers, Gregg Ferguson and Eric Kielb answered questions from listeners around the globe, while playing never-before-heard interviews from some of guitar's greatest.
Fans were treated to interviews from Ron "Bumblefoot" Thal (Guns N' Roses, Asia), Gannin Arnold (Joe Walsh, Taylor Hawkins & The Coattail Riders). And for the special episode, fans even heard advice to AC/DC from the late, great bluesman, Johnny Winter himself.
A never-before-heard interview with Winter was played following one listener's question of, "Have you ever approached individuals who have actually influenced AC/DC?". Winters described his love for the blues, the highlight of producing his own hero Muddy Waters, and even serving up a little parting advice for AC/DC. However, the legendary blues artist expressed his dissatisfaction with Rolling Stone magazine's listing of Top Guitarists Of All Time, where he was ranked rather low, alongside Angus Young.
"I definitely think I should be in the top five," Winters laughed, before turning contemplative, "It's got to have emotion. It's got to have 'feeling' to it. No matter how good you play, if you don't feel it, it doesn't translate well."
According to Blabermouth, AC/DC: Beyond The Thunder features well-known actors, authors, athletes, comedians, musicians, media hosts, and even members of the band. Every guest pays homage to one of the greatest bands of all time, AC/DC, including Slash, AC/DC drummer Chris Slade, and many more.
Johnny Winter was best known for his high-energy blues rock albums and live performances in the late 1960s and 1970s. He also produced three Grammy Award-winning albums for blues singer and guitarist, Muddy Waters. Winters released many albums over the years, including The Progressive Blues Experiment, and even had a show at the legendary Woodstock festival.