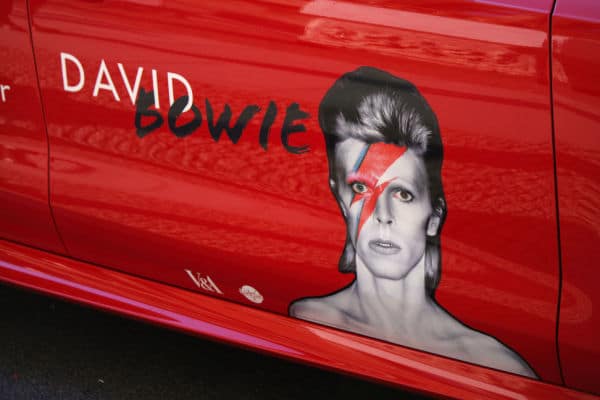 Would you like to listen to the article instead of reading it?
50 years to the day of David Bowie's final performance as Ziggy Stardust, digitally restored footage of the performance will be shown at the very venue where it all happened.
The pioneering musician, who died of liver cancer in 2016, retired his most notable alter ego in front of a 5,000-strong audience at London's Hammersmith Odeon on 3 July 1973.
And now on July 3rd, 2023, the Eventim Apollo Hammersmith will host a screening of the 1979 concert film Ziggy Stardust and The Spiders from Mars: The Motion Picture, now restored in 4K.
The original film features footage of Bowie and The Spiders From Mars backstage and onstage as well as an appearance from Ringo Starr. The new version includes the previously unseen full set and the late Jeff Beck's performance, which was cut from the original version.
Shot by filmmaker D.A. Pennebaker, the digital restoration was overseen by the director's son Frazer Pennebaker and boasts improved audio and visual quality.
The film will be unveiled at a red-carpet global premiere and the screening will be preceded by conversation live on stage with some of Bowie's famous friends.
The event will be live streamed to cinemas across the UK and Europe, with screenings in cinemas worldwide throughout July.
Tickets for The Eventim Hammersmith Apollo are on sale now and cinema tickets go on sale from Thursday 18 May.
Ticket information and additional details can be found HERE on Bowie's website. 
Michael "Woody" Woodmansey, drummer with The Spiders from Mars at the final show, reflecting on Bowie's legacy, told the PA news agency: "He seemed to know the basics in art – what matters, what's unimportant, what's important – so his presentation was impeccable. He could hold attention and add to the song – that was already good – with all this other stuff and it just had so much impact. I think it's important for audiences to see where a lot of the current stuff and influences have come from and also for new artists coming up to see how committed an artist should be and how they should pay attention to details."
He added that it felt like "everybody was on fire" during the famous Hammersmith concert as he recalled the night. "We had everything grooved in, it felt good, we were having fun, the audience was amazing. Bowie was particularly on form, didn't put a foot wrong. Not that he ever did but I noticed that night – it could have been just because it was the last two shows, there was an extra effort from everybody and the audience just wouldn't shut up, which is what you want – encore after encore."