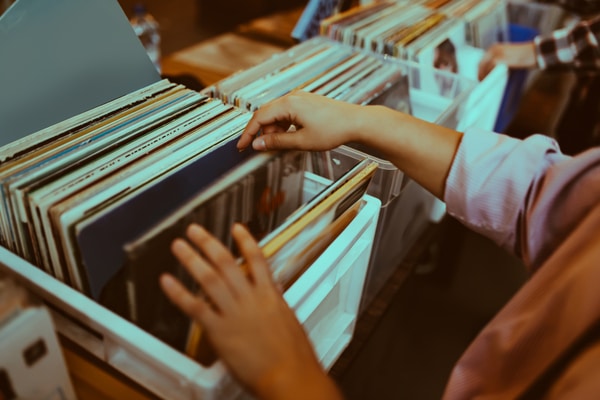 The resurgence of vinyl continued in 2021.
Despite many issues around the production of vinyl this year, 2021 saw the highest number of records sold in 30 years.
The British Phonographic Industry reports vinyl sales of over five million for 2021, which represents an increase of 8% on 2020. Vinyl records accounted for 23% of all album sales in the UK this year.
2021 is the 14th consecutive year that has reported a rise in vinyl sales.
The biggest selling vinyl release of 2021 was ABBA's long awaited comeback Voyage, followed by Adele's 30 and Sam Fender's Seventeen Going Under.
"It's a great time to be a music fan, with wider choice on offer than ever before supported by great value," said the British Phonographic Industry's chief executive Geoff Taylor. "Thanks to record label investment into new music and talent, fans can purchase and collect the music they most love on vinyl, CD and even cassette, whilst also enjoying access to over 70 million songs to stream instantly whenever and how often they want, in turn enabling a new generation of artists to create music and sustain successful careers in a global market."
End of year totals have yet to come in from the US, but at the midway point of 2021 19.2 million vinyl records had been sold, representing a 108% increase on the previous year.
2020 saw records outsell CDs for the first time in 34 years.
Some have mused that the vinyl boom has been exacerbated by the pandemic.
"A lot of people were looking for ways to keep themselves entertained at home during the pandemic," said Thirty Tigers record label head David Macias. "As a configuration, it's gone from the cool factor to a huge chunk of the business. It's crazy how much it's blown up in two years."
The demand for vinyl has led to production issues. With half a million copies of Adele's 30 pressed on vinyl, many smaller artists struggled to find processing plants that could accommodate them.
Even megastars like Ed Sheeran experience difficulties in getting their records pressed.
"There's like three vinyl factories in the world," Sheeran said. "So you have to do it like really upfront — and Adele had basically booked out all the vinyl factories, so we had to get a slot and get our album in there. It was like me, Coldplay, Adele, Taylor, ABBA, Elton (John), all of us were trying to get our vinyls printed at the same time."
"Even without Adele, the problem would still be there," said Chris Marksberry, managing director of vinyl manufacturing broker Sound Performance. "As the demand becomes bigger, people order more so everybody's initial order will be bigger than it would have been 12 months ago."