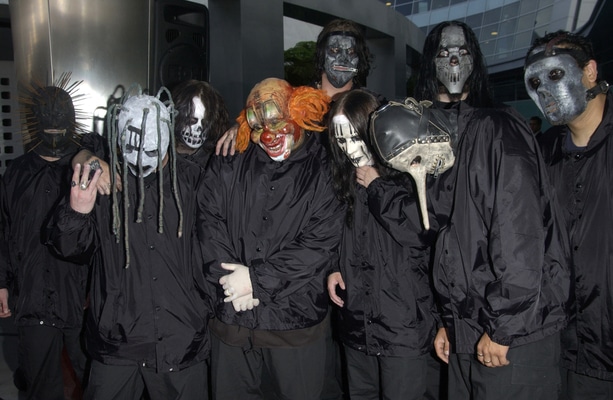 Slipknot have been left impressed by a seven-year-old drummer who performed one of their tunes on The Ellen Show.
Caleb Hayes appeared on the March 2nd edition of the daytime chat show to perform a cover of Slipknot's Sulfur.
Interviewed by Ellen DeGeneres after his impressive performance, Hayes said he began drumming at just two years old, having been inspired to pick up the sticks by his father. He cited Slipknot as his favourite band and was gifted a signature Jay Weinberg snare drum by DeGeneres. Hayes had been saving up to but such a drum.
Hayes' performance left Slipknot drummer Weinberg impressed.
"Once again, you've made all your big brothers in Slipknot proud," Weinberg wrote on Instagram. "What a way to own the moment, and deliver a fantastic performance. So stoked to see you rip it up on [The Ellen Show], and that you're heading home with a new snare. Play it hard and often, my friend – I know you will!"
View this post on Instagram
Hayes was discovered by Slipknot in 2020 when footage emerged of him air-drumming at one of their concerts. A couple of weeks later he was invited onstage by the band to join in a photo. Hayes was also invited backstage after the concert.
My man @h_drummer came to rock tonight 🔥🤘🏻🥁🤘🏻🔥 pic.twitter.com/fdE7qm0E7Y

— Jay Weinberg (@jayweinbergdrum) January 25, 2020
In 2019, 14-year-old drummer Maren Alford was invited backstage at a Slipknot gig after the band was wowed by her performance of their track Unsainted in a viral video.
"Best day EVER hanging out with Jay Weinberg before KNOTFEST in Dallas," Alford wrote on social media after meeting her drumming idol. "Not only is he a beast behind the kit, but he's also the most encouraging, kind and generous guy! Really a dream come true to meet and spend time with him and the Slipknot show was INCREDIBLE!"
Weinberg was himself a fan of Slipknot before he was chosen as drummer Joey Jordison's replacement in 2014.
Like many acts, Slipknot have cancelled shows in Russia, Ukraine and Belarus amid the ongoing Russian invasion of Ukraine.
The band was scheduled to play dates at Kyiv, Moscow and Minsk in July.
"Unfortunately we will be postponing our Kyiv, Moscow and Minsk and Minsk performances," Slipknot announced on social media. "New dates will be forthcoming. We had looked forward to reuniting with our fans in these incredible cities, coming back together after global lockdown. But we take this step in support of our community and in solidarity with the people of Ukraine, for whom the struggle continues, in a new and more terrible form. We also acknowledge that our Russian and Belarusian fans are overwhelmingly untied with the Ukrainians in their fight for peace. The safety and well-being of our global families is, and always will be, our top priority."
— Slipknot (@slipknot) March 2, 2022
Along with his son Griffin, Slipknot frontman Corey Taylor sent a video message to Ukrainian fans.
"We just want to send our love, our best wishes to all of our family and friends in the Ukraine," he said. "Stay strong, we're with you, we're standing with you and we're thinking about you. Hopefully, we will see you soon. Stay strong."
A message to our friends and family in Ukraine. Stay strong. pic.twitter.com/kSdxlXqIvW

— PANDEMIC! AT THE DISCO (@CoreyTaylorRock) March 2, 2022