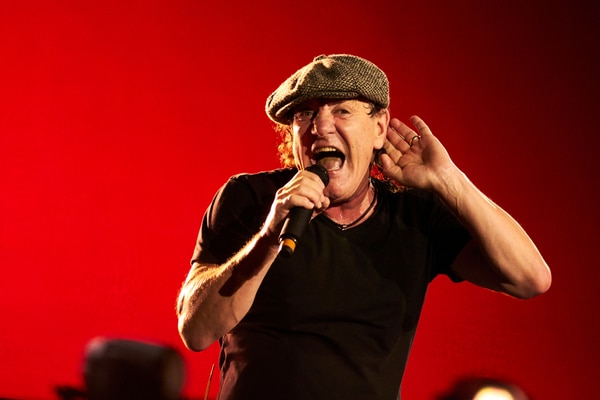 The music video for AC/DC's Thunderstruck is the latest classic rock track to pass a billion views on YouTube.
The promo for the anthemic song from 1990's The Razor's Edge album is one of the most famous music videos based around a live performance. It was filmed by director David Mallet at a special concert at London's Brixton Academy on August 17th of that year.
To get intimate stage shots, a glass floor was installed on stage. Cameras were placed beneath the floor to capture the band's stage antics, including guitarist Angus Young's iconic duck walk. A miniature camera was also placed on Young's guitar to provide close-ups of his strumming on the track's famous riff.
The video truly captures the energy of an AC/DC live show in an intimate setting. Each audience member was presented with a t-shirt bearing the message "AC/DC – I was Thunderstruck," which they can be seen wearing in the video.
Thunderstruck was released as the lead single from The Razor's Edge. It reached number five in both Ireland and the US on its release and has sold over a million copies in the decades since.
The song has now made history as the first AC/DC video to join the YouTube billionaires' club. The video was uploaded to the streaming site back in November of 2012. Only a few classic rock songs have achieved such a feat, among them Queen's Bohemian Rhapsody, Metallica's Nothing Else Matters and Guns N' Roses' Sweet Child O' Mine and November Rain.
AC/DC claim the original inspiration for Thunderstruck came from a popular toy from their childhoods called Thunderstreak.
In the liner notes of the 2003 re-release of The Razor's Edge, Angus Young wrote about devising Thunderstruck's iconic guitar riff.
"It started off from a little trick I had on guitar," he wrote. "I played it to Mal and he said 'Oh, I've got a good rhythm idea that will sit well in the back.' We built the song up from that. We fiddled about with it for a few months before everything fell into place."
Thunderstruck immediately became one of AC/DC's most popular live numbers, thanks to its anthemic quality. The song has featured in numerous movies including The Longest Yard, Iron Man 2 and Deadpool 2. It's a popular song at sporting events around the world and is part of American Football team the Dallas Cowboys' pre-game cheerleader show.
You can set Thunderstruck on its road to two billion views by watching it below.