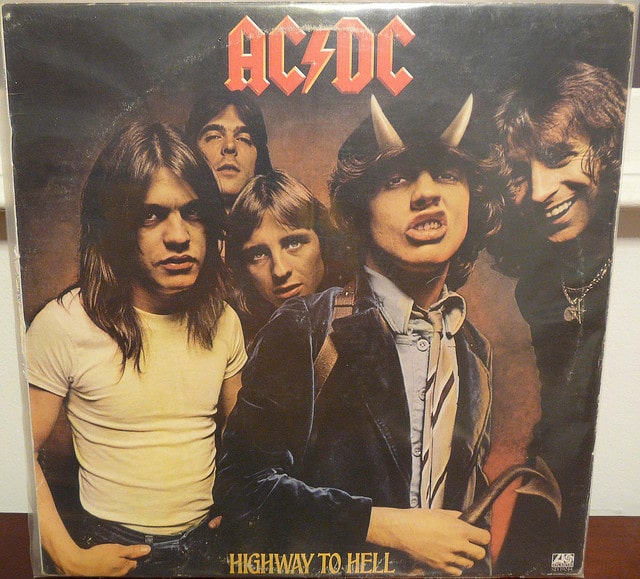 Highway to Hell is the sixth studio album from AC/DC, it was released in August 1979. It is also AC/DC's fifth international studio album.
Of course, Highway To Hell is the final album AC/DC recorded with Bon Scott, the lead singer who provided the group with a fair share of its signature sleaze. Just months after its release, Scott trgically died (the official cause cited as acute alcohol poisoning) after a night of drinking. In light of his passing, it's hard not to see Highway To Hell as a homage to the the man, and if Scott was going to go out in a blaze of glory, this certainly was the way to do it.
This is a veritable rogue's gallery of deviance, from cheerfully clumsy sex talk and drinking anthems to general outlandish behaviour. You can almost see the title track as ominous in the wake of his death — trying to spill it all out on paper, but it's more accurate to say that the ride had just gotten very fast and very wild for AC/DC, and he was simply flying high. After all, it wasn't just Scott who reached a new peak on Highway To Hell ; so did the Young brothers, crafting their monster riffs into full-fledged, undeniable songs.
This is their best set of songs yet, from the incessant, intoxicating boogie of 'Girls Got Rhythm' to ' If You Want Blood (You've Got It).' Some of the credit should also go to Robert John "Mutt" Lange, who gives the album a precision and magnitude that the Vanda and Young Lps lacked in their grimy charm. Filtered through Mutt's mixing board, AC/DC has never sounded so enormous, and they've never had such great songs, and they had never delivered an album as singularly bone-crunching or classic as this until now.
Tracklist:
1. Highway To Hell
2. Girls Got Rhythm
3. Walk All Over You
4. Touch Too Much
5. Beating Around The Bush
6. Shot Down In Flames
7. Get It Hot
8. If You Want Blood (You've Got It)
9. Love Hungry Men
10. Night Prowler
Photo Credit: Daneil Hartwig