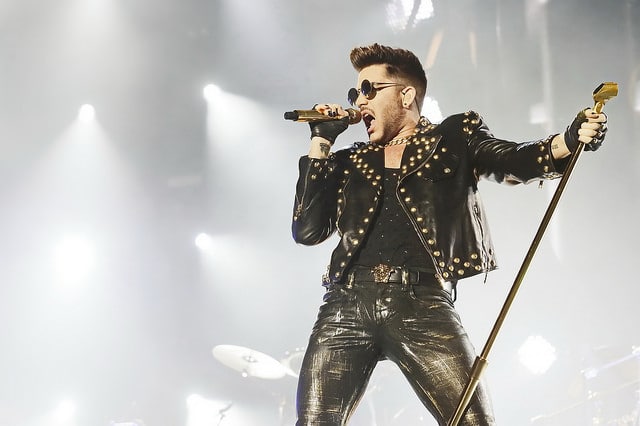 Queen's replacement singer Adam Lambert has spoken about trying to fill the shoes of the band's legendary frontman Freddie Mercury.
The singer admitted that he'll never 'replace' Mercury, however he feels he's in the unique position to 'keep his memory alive'.
Lambert has been touring as the replacement singer for Queen for the past few years, in 2012 Queen and Lambert were named as the best live act of 2012.
In an interview with Classic Rock magazine, Adam chats about the legacy Freddie left behind and how it feels to deputise for him on stage.
Lambert said: "There's never going to be another, and I'm not replacing him. That's not what I'm doing. I'm trying to keep the memory alive, and remind people how amazing he was, without imitating him. I'm trying to share with the audience how much he inspired me."
The guitarist stated in the past how Adam has an uncanny gift for interpreting Freddie's songs, saying his voice has a "sensitivity, depth, maturity and awesome range and power which will make jaws drop."
May told Universal Music Japan (via Digital Spy): "We didn't look for this guy, suddenly he's there, and he can sing all of those lines. See, they're difficult songs to sing, Queen songs. There's too much range. So many people can't sing them in the original key – even if they are good singers.
"Adam comes along, and he can do it easy. He can do it in his sleep. He can sing higher than even Freddie could in a live situation. So I think Freddie would look at this guy and think, 'Hmm, yeah. Okay'. There would be a kind of, 'Hmm, you bastard, you can do this'."
"He is a showman. He doesn't have to try. He is a natural, in the same way that Freddie was."
Brian May commented that: "Adam is the first person we've encountered who can do all the Queen catalogue without blinking. He is a gift from god."
And drummer Roger Taylor added: "He's incredibly musical, and we certainly take anything he says quite seriously."