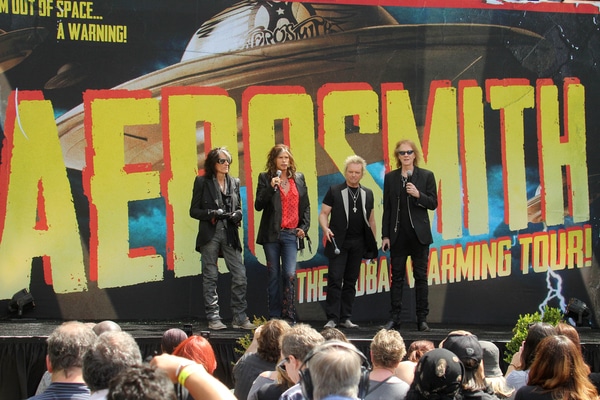 Ahead of their 50th anniversary, Aerosmith have confirmed the sale of their back catalog to Universal Music Group.
This means that UMG will own Aerosmith's entire recorded catalog in 2022. They will also own any future music released, along with audio-visual content and merchandise.
The company have also added that this deal will give them unprecedented access to Aerosmith's storied "Vindaloo Vaults". It will also give them access to the personal archives of band members Steven Tyler, Joey Krammer, Joe Perry, Tom Hamilton and Brad Whitford.
The members are to help to organise their collection of music, video footage, photographs, journals, artwork and other memorabilia.
The intriguing thing about this deal is, is that the band's debut album from 1973, their 1974 release "Get Your Wings" and "Toys In The Attic" from 1975 have all been released via Sony Music/Columbia. They have been released by them for decades.
But now, the band have chosen to release them via Universal Music Group.
This deal looks set to reunite some of Aerosmith's other material. The band's records Permanent Vacation (1987), Pump (1989), and 1993's Get A Grip were all released via Geffen. Geffen are now a Universal Music Group subsidiary.
"On a personal note"
The company's chairman and CEO Sir Lucien Grainge had this to say of the deal.
"Aerosmith's global success places them in rarified air among the all time greatest rock icons". 
He continued, "On the band's 50th anniversary, Aerosmith continues to influence the course of music not only through their iconic catalog, but also through film, television, and video games and their inimitable style". 
"On a personal note", he added. "I couldn't be prouder that they have chosen UMG as their global partner. We look forward to building upon their incredible legacy and ensuring that their music continues to inspire fans around the world". 
Lead guitarist for Aerosmith, Joe Perry said that he was "extremely happy" to "bring 50 years under one roof by partnering with UMG". 
"This will allow us to bring our music to our fans in ways we were never able to before", he continued. "It's something we've dreamed about for a long time. It's a win for Aerosmith, UMG and ultimately our fans. Needless to say we are very excited. It's an incredible way to celebrate 50 years and the many more years to come". 
The band's manager Larry Rudolph also paid tribute to Sir Lucien for "tirelessly working to craft the most unique and mutually beneficial catalog arrangement in history". 
Aerosmith Day
In 1999, Aerosmith became the first music group to have its own Disney attraction in Florida. The Aerosmith Rock "n" Roller Coaster was launched later in Paris.
Starting out in Boston in 1970, the city now celebrates Aerosmtih day every April 13.
The band's biggest hits include, "Jamie's Got A Gun", "Crazy" and "Livin On The Edge". They are also part of UMG's partnership with YouTube, bringing music videos into current video and audio standards. Recent releases include "Walk This Way" and "Dude Looks Like A lady".