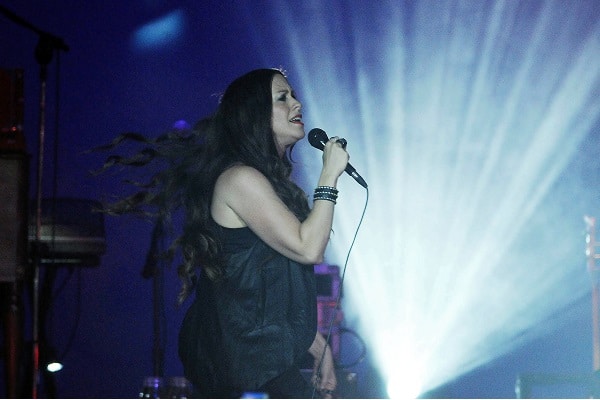 Alanis Morissette has announced plans to release an album to help people to meditate.
Co-written by Darkside's Dave Harrington, The Storm Before The Calm will show fans 11 different meditations. This album will arrive on June 17.
Along with being available on streaming platforms, the album will also be released via the mental health app Calm. The app can be purchased on android and iPhone.
The Hand In My Pocket singer has already released the album's opening track, Safety – Empath In Paradise, which lasts for 11 minutes. You can also hear it below.
Morissette herself is a huge fan of meditation.
"Meditating rests my interior", she said. "to the point where I can have access to ideas and visions and inspirations – I can hear my own capital-S Self. Music, for me, is like a portal in a way, an invitation into a state of being that I'm not normally in. Making the record kept me super connected and accountable during Covid, when I felt like I was just going to disappear and float away".
Alanis Morissette 'Jagged Like A Pill' Tour 
On top of this, Alanis Morisette is also set to begin her 25th anniversary tour next month. This celebrates 25 years since she released her album Jagged Like A Pill. An album that sold 33 million copies.
Beginning in Copehagen on June 9, the rest of the month will see Morissette take to the stage in cities including Amsterdam, Hamburg, Paris, and Glasgow, before hitting Dublin's 3Arena on June 21.
Morissette will tour Britain. Fans will be able to watch her perform live in Birmingham, Leeds, Manchester. She will arrive in London for two live shows at the O2 on June 28 and 29.
July and August will see Morissette begin the North American leg of her tour. Morissette will be supported by the band Garbage.
She will perform in Austrailia, New Zealand and the Philippines in November. She will finish the tour on November 19.
Tickets for this tour are also available here.
Morissette was also forced to cancel the release of Jagged Like A Pill as a musical last December due to Covid restrictions.