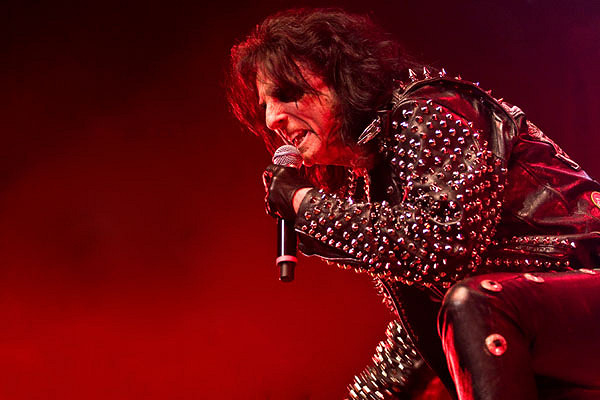 Alice Cooper has spoken of the fear he experienced when fellow bandmate Joe Perry collapsed on stage.
During a performance with the Hollywood Vampires on July 10th, Joe Perry collapsed mid-song leaving Cooper feeling very unnerved.
Now over a month later, Cooper has recalled the frightening shock he received that night. He admitted to Rolling Stone, "It scared the hell out of me… The lyrics to the first song we played that night go, 'Cardiac, heart attack… They never feared the reaper,' and I look around the stage and he's gone. He was lying behind an amp on his back, and I went, 'Oh, my God.' We didn't know what happened until after the show".
Reports suggest the cause of the collapse was down to dehydration and exhaustion, which Cooper seems to think makes sense as Perry told him "the night before he hadn't eaten in two days".
Although he doesn't think Perry was prepared for the intensity of the tour, "We were doing 25 to 30 songs with no break… You're in fourth gear, and there's no 24-hour resting period. I think it just caught up with him".
Perry was taken to Columbia Presbyterian Hospital where it was confirmed he hadn't suffered a heart attack. He returned to the tour two weeks later with Cooper saying, "I've never seen him play so good, he looked great and he played great for the next few shows".
Even though Cooper found himself getting a shock that night, he recently admitted that he thinks it's hard to shock modern audiences.
Don't forget you can catch 'Friday Nights With Alice Cooper' on Radio Nova every Friday from 7pm!
Photo Credit: Focka