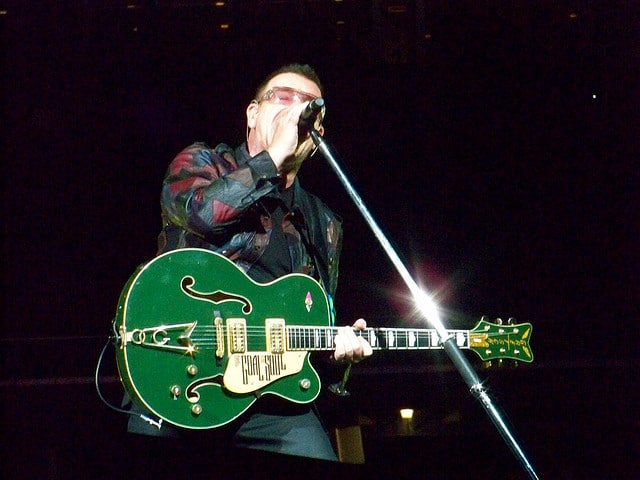 Bono's daughter Eve Hewson, stars in a new television series called the 'The Knick' premiering on Sky television.
The new ten part show is made by American premium cable providers Cinemax, starring Clive Owen and Eve Hewson.
The series is directed by Academy Award winner Steven Soderbergh (Out Of Sight, Erin Brockovich and Ocean's Eleven). It looks at the professional and personal lives of Dr. John W. Thackery (played by Owen) and the staff at New York's Knickerbocker Hospital during the early part of the twentieth century.
The premise of the show is based on staff at New York's Knickerbocker Hospital during the 1900's. Dr. John Thackery(Clive Owen), plays a surgeon, that is battling with cocaine and opium addiction. Lucy Elkins (Eve Hewson), is a fresh-faced nurse from the country. Describing the show Eve says "it has everything."
Hewson said. "The hospital area is so ready for drama, but then we also have a period piece that addresses, front on, racism and sexism, and it is also very gritty."
Eve's big break was in Sean Penn's 'This Must Be The Place'. A film about a wealthy former rock star, jaded in his 20 year retirement in Dublin. She played 'Mary' a young punk girl living in Dublin. The film is apparently loosely based on frontman Robert Smith of The Cure.
Speaking to the Toronto Sun, she said, "I grew up in Dublin, so I was lucky that I wasn't in a culture that was sort of obsessed with celebrity anyway. It would have been harder for me had I grown up in London or Los Angeles, where there are paparazzi and it's more about the scene."
"I went to college, I studied acting, I really wanted to learn about it, because I respected it but I didn't know that much. I wanted to know about theatre and I wanted to study and do plays. It just worked out very well."
The actress isn't immune from her father trying to muscle in on her chosen field. In an interview she told W magazine: "My dad wants to be an actor now. He's like, 'What do you think of me being in a movie with Beyoncé?'  And I said, 'Stick to your day job!'"
And will Eve be singing on her Dad's new album. "No, I'm sorry, I'm letting everyone down. I really can't. I can't hit a note."
Check out the trailer for 'The Knick' below.