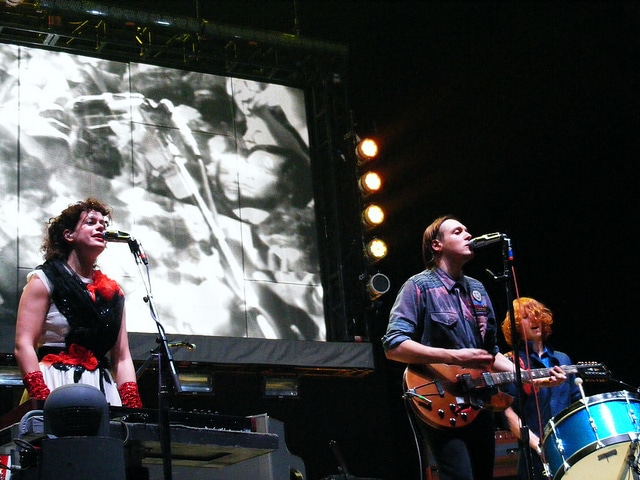 Arcade Fire take this time of the year very seriously, to show their love for the spooky season, they've put out a short horror film.
The scary movie is called 'Festi', starring Peter Gabriel, Fleet Foxes, LCD Soundsystem's James Murphy, The National and Slash.
The short is directed by one of the band's previously-used pseudonyms 'Noreen Bauble'. The chilling 24-minute long film is described as "a look back at [Arcade Fire's] 2011 summer festival tour". The video even features an appearance by actor Andrew Garfield.
The terrifying footage takes place at frontman Win Butler's 27th birthday, what should be a celebration, soon turns in to a malediction. The crowd that has turned up for a joyous party, succumbs to the cure of the 27 club. The band then become involved in a tale of murder, mystery, gore and even hang out with Jim Morrison's ghost.
Keep an eye out for James Murphy playing the somber DJ, Fleet Foxes as bearded performers, Andrew Garfield as Spiderman (big surprise), Peter Gabriel as a security guard, the National as creepy twins and even an eerie performance of 'Sweet Child O' Mine' by Slash.
Watch the short horror film 'Festi' below.