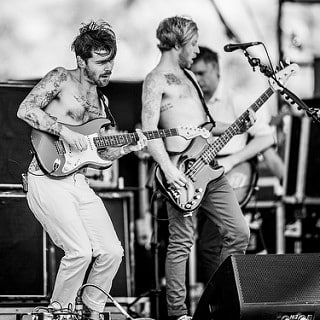 Scottish rockers Biffy Clyro are gearing up for the American leg of their Ellipsis tour, having just played an intimate gig in Shepard's Bush Empire, in aid of War Child.
The gig was part of the organisations' annual series of gigs. War Child aims to protect, educate and stand up for the rights of children caught up in war. Its mission is to "reach children as early as possible when conflict breaks out, and stay on to support them – long after the TV cameras have gone home."
Biffy drummer Ben Johnston had a chat with NME ahead of Wednesday night's BRIT awards and reflected on their recent charity gig. Johnston said that 'it's a good time to go back and revisit old material'.
"We supported ourselves and played tracks from the first three albums," Johnston added, "which was great – really, really quite tough. Having to re-learn all of these old drum parts that I wrote when I was young and trying to show off. I was really quite tired after that first set, but it was an amazing night for an amazing charity and we almost blew the roof off the place and we raised a lot of money so we're very happy with that."
When questioned if Biffy had plans for similar gigs in the future, drummer Johnston replied, "We always have plans. We're not a band that shirk off our earlier stuff – we're really proud of it and try to put it in the set as we can. We just thought this was a great opportunity to have two different sets to show the evolution of the band to a degree. I think in the future we'll do nights where we play albums in their entirety."
It's hard to believe they released their breakthrough album Puzzle a decade ago! And with Ben Johnstons recent comments, it's looking like a 10th anniversary tour is a possibility.
"It's been 10 years, which makes me feel very old – thank you. I can't believe it's been that long," said Johnston. Getting the rumour mill going he added, "I guess there might be something in the pipeline, maybe at the end of the year, to mark that."
Picture Credit: Thomas Hawk