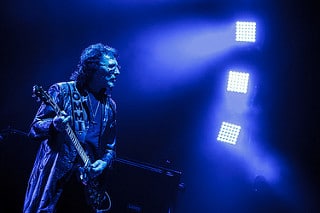 Classic metal band Black Sabbath hung up their guitars earlier this year when they played their final concert in their home town of Birmingham.
The sold out concert was filmed and a screening of it has been scheduled for later this year. The movie is brilliantly titled The End of The End.
Ozzy & Co. played the final show of their 51 year career on February 4th. Three of the original members, Ozzy Osbourne, Tony Iommi and Geezer Butler were joined by drummer Tommy Cluefos and Adam Wakeman for the 81st time in The End Tour.
The metal legends played a 15 song set for two hours. Before taking their final bow, they treated fans to tracks from their most famous albums Master Of Reality and Vol.4 amongst others, before ending with their eponymous Paranoid – the band's only album to reach the Top 20 in the charts, peaking at no. 4 in the U.K. Have a look at the full set list below. (Check out the full set list below.)
The new film's screening is great news for fans who missed out (or want to relive) that last performance. It was directed by Dick Carruthers, whose credits include Led Zeppelin's 2007 concert reunion film Celebration Day.
The movie will be screened in more than 1,500 theatres worldwide on September 28th.
To see where your nearest screening will be check out their website here and nab those tickets early!
Black Sabbath 2/4/17 Birmingham, England (Final Show) Set List
1. "Black Sabbath"
2. "Fairies Wear Boots"
3. "Under the Sun / Every Day Comes and Goes"
4. "After Forever"
5. "Into the Void"
6. "Snowblind"
7. "War Pigs"
8. "N.I.B."
9. "Hand of Doom"
10. "Supernaut / Sabbath Bloody Sabbath / Megalomania"
11. "Rat Salad"
12. "Iron Man"
13. "Dirty Women"
14. "Children of the Grave"
Encore
15. "Paranoid"
Photo Credit: Jesper Hedlund