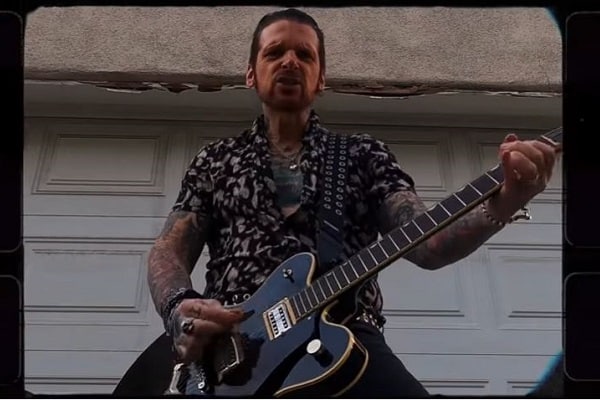 Black Star Riders and Thin Lizzy frontman, Ricky Warwick tested positive for COVID-19 this week, despite being both vaccinated and boosted. On January 5th, the rocker took to Twitter to share with fans a picture of his positive result and declare; "I have COVID.. it sucks !! It would suck a whole lot more if I wasn't vaccinated and boosted !! #covidsucks? #ɢᴇᴛᴠᴀᴄᴄɪɴᴀᴛᴇᴅ"
I have covid.. it sucks !! It would suck a whole lot more if I wasn't vaccinated and boosted !! pic.twitter.com/axmUo1osvi

— RICKY WARWICK 🍀 (@rickywarwick) January 5, 2022
Carrying the burden of underlying health issues, the musician has been lucky in his recovery of the coronavirus. Two years ago, Ricky was diagnosed with pleurisy, a condition in which the linings of the lungs become inflamed. The rocker resurfaced on social media to thank his fans for their "kind wishes" and gave an update on how he had been doing.
In addition to his solo acoustic act, fronting Thin Lizzy and Black Star Riders, Warwick had been the guitarist and vocalist for The Almighty. Hailing from Northern Ireland in the County Down village of Newtownards, Ricky now resides in Los Angeles – where he has lived for nearly two decades. The rocker has two kids, with his youngest being just 13 years old, and his oldest being 24.
In 2019, Warwick signed a worldwide deal with Nuclear Blast for his solo album releases, with his latest solo offering, When Life Was Hard And Fast. The record label also released Black Star Riders' fourth studio album, Another State Of Grace, in September 2019.
Gearing to line up recording for their new album, Black Star Riders stepped into the Los Angeles studio with long-time producer, Jay Ruston. The experienced Ruston has previously worked with some very exciting names of rock in the form of Stone Sour, Steel Panther, Uriah Heep, Anthrax.
The latest edition to the Black Star Riders catalogue is set to feature a different line-up from the band's previous releases. Founder and lead guitarist, Scott Gorham made the decision to step down from all recording and touring commitments with the group to focus on reviving Thin Lizzy.
Thank you for all the kind wishes yesterday, I'm feeling much better today.
I'm sitting here in my quarantine putting together the finishing touches to the set list ( Yes..there is a bunch of The Almighty songs in it ) for the forthcoming Ricky Warwick & The Fighting Hearts tour. pic.twitter.com/VTkHaW79PJ

— RICKY WARWICK 🍀 (@rickywarwick) January 6, 2022