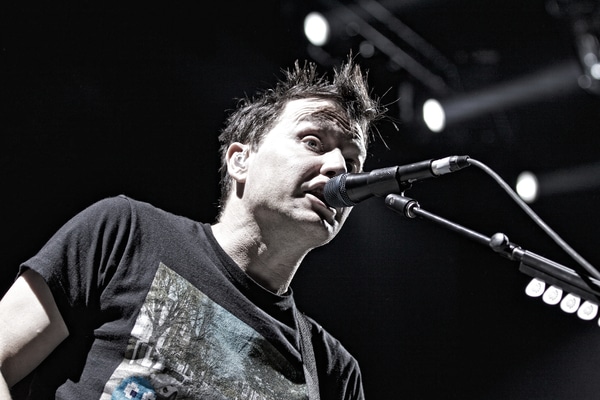 Blink 182 vocalist and bassist Mark Hoppus has shared an update on his ongoing treatment for cancer.
Hoppus revealed his cancer diagnosis in June. He has now been undergoing chemotherapy for over three months.
On Sunday Hoppus took to social media to provide an update to his tentative fanbase.
According to Hoppus, he is to take a test this week that may determine whether he "lives or dies."
"Apologies if I'm oversharing but it's so surreal to think that this week I'll take a test that may very well determine if I live or die," Hoppus wrote. "Thanks to everyone for the positive thoughts and encouragement. I read all your replies and it means the world to me. Thank you."
Hoppus continued "I'm going to beat this through chemotherapy or through bone marrow transplants, but either way I'm determined to kick cancer's ass directly in the nuts. Love to you all. Let's. Heckin. Go."
Included in his tweet was an x-ray image of the problematic tumour, around his shoulder.
Hoppus has yet to reveal specific details regarding the form of cancer he's contracted, or what stage it's currently at.
The 49-year-old first announced the news last month.
Writing on Twitter, he told his fans "For the past three months I've been undergoing chemotherapy for cancer. I have cancer. It sucks and I'm scared, and at the same time I'm blessed with incredible doctors and family and friends to get me through this. I still have months of treatment ahead of me but I'm trying to remain hopeful and positive. Can't wait to be cancer free and see you all at a concert in the near future. Love to you all."
Prior to his official reveal, Hoppus had alerted his Instagram followers by posting a picture of himself surrounded by medical equipment in a doctor's office. The caption for that post read "Yes hello. One cancer treatment, please."
Hoppus's bandmates Travis Barker and Tom DeLonge both voiced their support following the news.
"Mark is my brother and I love and support him," drummer Barker said. "I will be with him every step of the way on stage and off and can't wait for us to play together again soon."
Guitarist DeLonge revealed that he had been aware of Hoppus's diagnosis for a while. "(Hoppus) is strong, and a super-human who is pushing through this difficult obstacle with a wide-open heart," he wrote on Twitter.
Earlier this year Barker announced Blink 182's intention to release a new album in 2021. The band has yet to confirm the current status of that project.