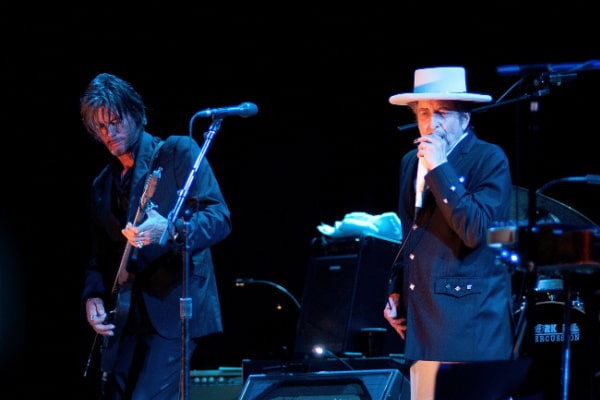 It has been revealed that Bob Dylan has his own special signal for when he would like to be left alone.
This gesture was discovered by his former touring guitarist Billy Burnette, who joined Dylan on the folk legend's tour of Austrailia and New Zealand in 2003.
On top of this, Burnette described the experience of touring with Dylan as a "big thrill".
"I remember at the first day of rehearsal, Dylan picks up his acoustic guitar. He goes, 'This is my thing.' I go, 'You're right about that", Burnette also added.
"wears the hood"
While travelling with Bob Dylan, Billy Burnette revealed that there is a particular gesture that is a favourite of the music legend when he does not feel in a socialable mood.
The signal does not appear so subtle, as Dylan simply brings his hood over his head when he does not fancy talking.
"When he wears the hood, you're not supposed to talk to him," Burnette says. "I didn't know that until one day we were in line to get on a plane at the airport. I tapped him on the shoulder", Burnette said.
'No, no. He don't talk to anyone when he's got the hood on.' I was like, 'OK. I'm glad you told me". 
Burnette also added that Dylan has a subtle way of disappearing.
"He's slippery", he added. "He can walk in an airport … they lost him one day. They couldn't find him anywhere. I'm in this little gift shop and I turn around, and there he is. He goes, 'Hi, Billy.' I was like, 'How did you get in here?' He moves around. It's a weird thing". 
Burnette was also a member of Fleetwood Mac for eight years, starting in 1987.
Billy Burnette also revealed that he is working on a new album with Fleetwood Mac, with Mick Fleetwood on drums.
Last month, it was confirmed that Bob Dylan's bootleg series was to focus on his 1997 album, 'Time Out Of Mind', celebrating its 25th anniversary. 
More on this here.