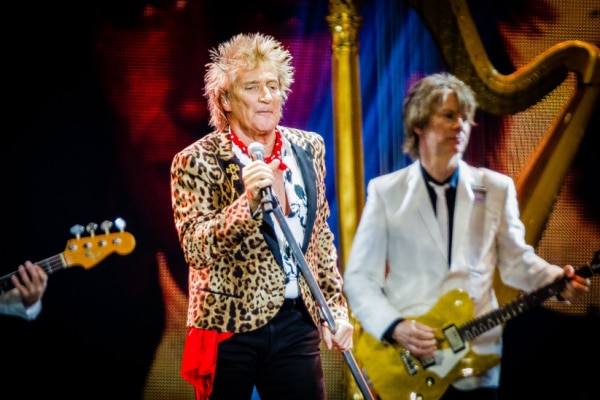 Singer Rod Stewart has revealed that his 11 year old Aiden was rushed to hospital after collapsing at a recent football match.
Aiden Stewart, the youngest child of the Maggie May singer, was rushed to hospital after he went "blue and unconscious", while playing for his Young Hoops under 12s side.
Having intially thought that the youngster had suffered a heart attack, we are pleased to report that those thoughts appear to be wide of the mark, as it has emerged that Aiden suffered a bad panic attack.
"scary"
Speaking in a recent interview, Rod Stewart described the frightening experience, which is surely the worst nightmare of every parent.
"We thought my boy had a heart attack", Stewart revealed. "He was going blue and was unconscious until he calmed down. It was scary, but it turned out to be a panic attack. The lad wanted to do well, pulled on the Hoops in Scotland for his dad".
The singer continued, "Another boy fell backwards and banged his head – he's still not back. In all of my days watching football, that's the only time two ambulances had been called".
This marks an undoubtedly turbulent year for Rod Stewart.
Last month, another son of the singer Sean was rushed to hospital, following a horrific road traffic collision.
Sharing a photo of him wearing a hospital gown and face mask, with a yellow plastic brace supporting his neck, Sean said, "I got hit by a truck at a red light".
Adding, "Hard out here on these streets".
Sean's mother is Rod Stewart's first wife Alana.
"irreplaceable buddies"
Rod Stewart had also announced earlier this week that his brother Bob had passed away, just two months after losing his other brother Don.
"I've lost two of my best mates in the space of two months. RIP Don and Bob 'irreplaceable buddies'", Stewart said.
More on this from Nova here.