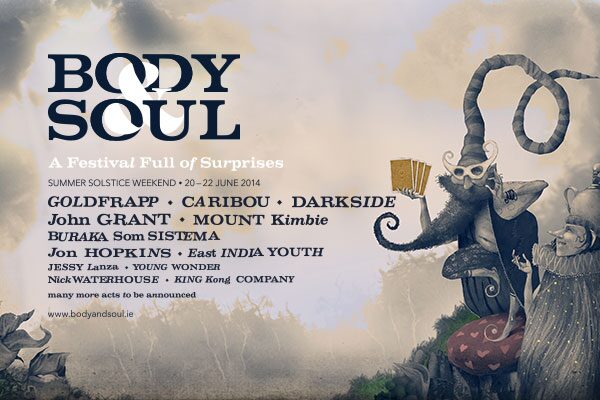 THE BODY&SOUL FESTIVAL 2014 REVEALS FIRST PART OF LINE-UP FOR SUMMER SOLSTICE WEEKEND
JUNE 20 – 22, 2014, BALLINLOUGH CASTLE, CO. WESTMEATH
To celebrate FIVE STELLAR YEARS on the Irish festival scene, Body&Soul has a few very special cards up its trademark sleeve for 2014.
Upturning its TRUMP CARD this morning, the multi-award-winning festival signals the first of its exciting line-up announcements for this year's Summer Solstice weekend, June 20 – 22, set across the unforgettable backdrop of Ballinlough Castle, Co. Westmeath.
Set to headline the festival are über-glam stars GOLDFRAPP who have spanned a fifteen year career creating fantasy environments in their music to reach what is now their celebrated sixth album. Bringing their unique, mesmerising soundscape to Ballinlough. Expect stunning visuals, explosive beats and the spine-tingling vocals of Alison Goldfrapp to set the tone for the entire festival.
Canadian compositional genius CARIBOU will unpack his upbeat 1960's sunshine pop to bring festival-goers soaring from their feet. The regal baritone of American singer-songwriter, cult hero JOHN GRANT will fill the air with songs from both his award-winning albums.
Each year celebrating the age-old tradition of the Summer Solstice in its own unique and modern way, the ever-changing, 'shapeshifting' festival with a "heart-shaped mind and a cutting-edge soul" is known as much for its vast spectrum of musical influences as its attention to smaller details.The family-friendly festival will feature bespoke installations across the walled gardens and woodlands from artists around the world along with a dotted landscape of spoken word, holistic arts, theatrics, acrobatics, gastronomic delights and a promise of adventure around each and every one of its shape-shifting corners…

Body & Soul 2014 line-up so far:  Goldfrapp, Caribou, John Grant, Darkside, Jon Hopkins, Mount Kimbie, Buraka Som Sistema, Nick Waterhouse, East India Youth, Young Wonder, Jessy Lanza, King Kong Company

Tickets are available for €129.50 at the moment including booking fee and VAT. You can buy your ticket here.
Body&Soul – A Festival Full of Surprises

Follow all updates on twitter @BodyandSoulIrl. For more information visit Facebook at www.facebook.com/BodyandSoulIreland.More to be announced. Visit www.bodyandsoul.ie

Ticket Options Available:
Body&Soul is this year offering a 5 Tier Ticket system for Three Day Camping tickets. Tier 1, 2 & 3 have now sold out.
A limited number of Tier 4 tickets are currently available at €129.50 including booking fee and VAT.
Tier 5 tickets will be available from 31st March at €139.50 including booking fee and VAT.
A Family ticket is available for those wishing to stay in the dedicated Family Campsite. A family ticket permits entry for 1 adult and 2 children aged 12 or under. (Adults without children are not permitted into Family Campsite). 
A Campervan ticket is now available for €50 for anyone wishing to bring a live-in vehicle to the festival and park in a dedicated Campervan park. (Note separate event tickets required for each passenger.)
Tickets can be purchased 24 HRS: 0818 719 300 / WWW.TICKETMASTER.IE.  Phone & internet bookings subject to €6.10 credit card service charge, outlets €2.15 per ticket.  Subject to license.
Available From 31st March:
Combined Event & Bus tickets
Day tickets for the Sunday
A Combined Sunday & Bus ticket
Easy Instalment tickets