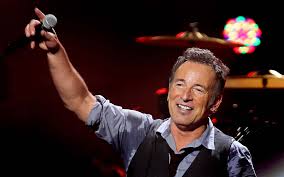 Bruce can't really put a foot wrong. Remember those sold out shows all over our country last year that had us talking about him for weeks.
Now just this week, while playing in Melbourne Australia Bruce decided to mark the 34th anniversary of AC/DC frontman Bon Scott's passing by playing 'Hwy to Hell' and he was joined on stage by Pearl Jam's Eddie Vedder! What a treat!
NOW, longtime Bruce Springsteen fans are rejoicing because 10 of his albums — including his first four, have been digitally remastered for iTunes.
The remasters, which for the first time are transfers from analogue to digital masters, includes 1973's Greetings From Asbury Park, N.J.; The Wild, The Innocent & The E Street Shuffle; 1975's Born To Run; 1978's Darkness On The Edge Of Town, and 1984's blockbuster, Born In The U.S.A.
Among the more recent titles also included in this first digital roll out are 2006's We Shall Overcome: The Seeger Sessions; 2009's Working On A Dream; 2010's The Promise; 2012's Wrecking Ball; and 2014's High Hopes.
Personally I'm overjoyed to hear this. Greetings from Asbury Park, NJ is one of my favourite albums ever but the audio on the CD pressings is awful! And don't get me started on Born To Run!!
Now pay attention, here comes the science part… Over the last 2 years, Springsteen and engineer Toby Scott & Jamie Howarth of 'Plangent Processes' utilized new audio technology capable of repairing pitch and timing errors embedded in analogue recordings to transfer Springsteen's early albums with improved definition, resulting in greater transparency, detail and clarity. After the transfers were made, they were remastered by Bob Ludwig.
There's still no word yet on any remastered versions of The River, Nebraska, Tunnel Of Love, Human Touch, Lucky Town, The Ghost Of Tom Joad, Tracks, The Rising — or any of Springsteen's live collections hitting iTunes.
Now go download and hear lyrics like "Nuns run bald through Vatican halls pregnant, pleadin' immaculate conception.. And everybody's wrecked on Main Street from drinking unholy blood" in high def!
Chat to you on the radio – Weekdays from 6am on Radio Nova's Morning Glory or on twitter now @MartyMtweets.