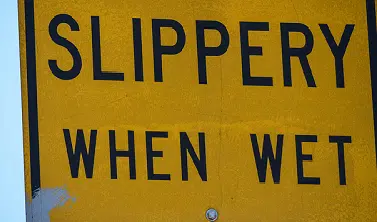 Raise Your Hands! Bon Jovi are celebrating the anniversary of their first no.1 album.
After nearly three decades, line-up issues and a few haircuts later: Bon Jovi's massive third album is 28 years old today.
Slippery When Wet was released on August 18th 1986 and went top of the charts in the USA as well as several other countries including Australia and Canada.
It also gave the band their first no.1 with the album's lead single: 'You Give Love A Bad Name'. Other huge hits on the record include 'Livin' On A Prayer', which also got to no.1, and 'Wanted Dead of Alive'.
The original cover, which featured a close-up of the album's title written on a tight t-shirt worn by a woman, was pulled at the last minute. The less controversial version was the title traced out on a wet black bag.
Which is better?
Elsewhere Jon Bon Jovi's joined celebrities all over the world in accepting an Ice Bucket Challenge nomination, which also contains proof that Jon and Richie are still talking: "I want to thank Jay McKee for this ALS Ice Bucket Nomination! And, now I want to pass this along to David Bryan, Tico Torres and Richie Sambora."- JBJ
Check it out below:
Bon Jovi rocked Slane Castle last year without Richie Sambora who played a solo date at The Olympia last June.
Hear the whole thing, ad-free tonight on Radio Nova. Bon Jovi: Slippery When Wet is the Classic Album At Midnight tonight.