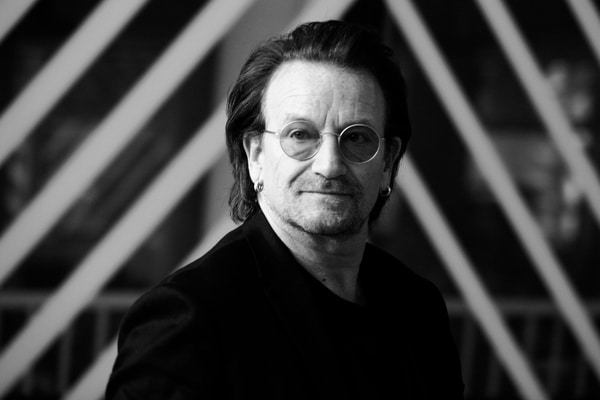 U2 frontman, Paul Hewson has gone solo for new track, Eden: To Find Love, collaborating with 4 Non-Blondes' Linda Perry. Paul, AKA Bono, lends his vocals to the track, co-written by Perry, and features on new documentary, Citizen Penn, streaming now on Discovery+.
Shot in the wake of the 2010 Haiti earthquake, Don Hardy's documentary explores the advocacy and activism of actor Sean Penn and his organisation J/P Haitian Relief Organisation (now CORE). The only artist-driven tune on the soundtrack of Citizen Penn released on May 21st, via Lakeshore Records.
"My dream was not to be a big rockstar, it was to create music that would play a supporting role in films," the What's Up singer said in a statement. "Every song I write comes from a visual, not a word, not a strum." Perry produced and co-wrote 'Eden: To Find Love' along with Bono, which you can hear below.
Eden: To Find Love includes the lyrics "Out of the ash, out of the dust / The clever learn, who not to trust / The genius of belief, is that we must / take a chance sometimes on us".
"When I first began talking to Linda about scoring Citizen Penn, a project I'd spent almost a decade trying to get made, I never could have imagined the challenges we would face getting the film finished and out into the world," Hardy said in a statement. "We quickly developed a shorthand while working remotely due to COVID-19, and her commitment to the project never wavered. Linda understood the film's deeper themes and our protagonist, Sean Penn. She wrote and played from the heart. Her passion and artistry elevate every scene."
Speaking of the work in his statement, Bono said the documentary is "an extraordinary document of an extraordinary man's work. Putting not just his brain but his body in the way of various injustices. For all the gravitas, the dude still cracks me up!"
Bono continues to explain that he plays GOD in the song, with Penn playing Adam, "having explained that it was me, not Eve, who got us thrown out of the Eden… or something like that. Linda helped me strip this all right back, and I even got our daughter Jordan on backing vocals. It's a family affair."
Just last week, we saw the release of Bono's collaboration with The Edge and Martin Garrix, We Are The People. Written over the course of the past three years, and featuring lyrics written by Bono and guitar by The Edge, the track will serve as the official song of Euro 2020.