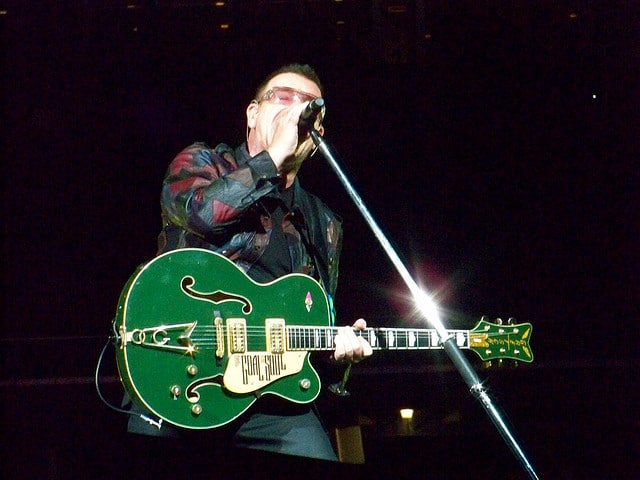 Merry Christmas to all the Radio Nova listeners out there, U2's frontman Bono was seen near St. Stephen's Green yesterday.
Wearing a camouflage baseball cap, blue tinted sunglasses, silk scarf, and trying his best to conceal his broken arm, it didn't take long for Dubliners to realise who had just hurried past them on the street.
The singer wasn't letting his injuries spoil his festive mood, as he dashed past fans on his way to The Cliff Townhouse restaurant, to catch up with friends and family.
Bono will need three months to recover from his bike accident, while the frontman was cycling around New York's Central Park, he lost control of his bicycle trying to avoid another cyclist and came crashing down on his arm.
Bono underwent five hours of surgery following his bicycle calamity. Rolling Stone reports that Bono suffered several serious injuries from the incident, including a "facial fracture involving the orbit of his eye".
"[Bono] was taken emergently to the operating room…where the elbow was washed out and debrided, a nerve trapped in the break was moved and the bone was repaired with three metal plates and 18 screws," revealed orthopedic trauma surgeon Dean Lorich MD.
Bono underwent "multiple X-rays and CAT scans" following the surgery and will require "intensive and progressive therapy".
A source told the Sunday Independent: "The injuries will take at least three months to recover. Bono plays guitar a lot, and his arm and shoulder will need extensive physiotherapy if he is going to be ready for the tour. It all depends now on how quickly he can recover."
Unfortunately there was no Grafton Street performance this year due to Bono's condition. Check out Glen Hansard & Bono's performance last year.