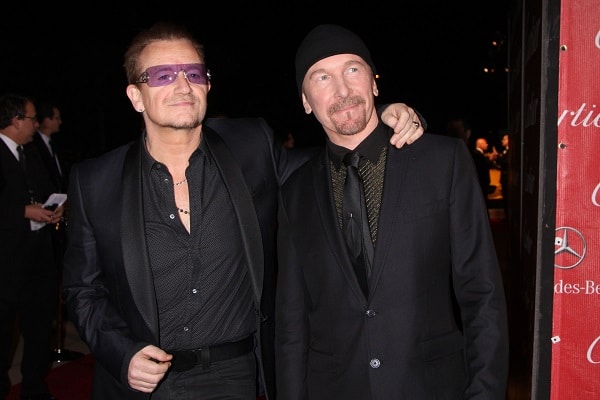 It has been reported that U2's Bono and the Edge have been writing music for the upcoming biopic about director Jim Sheridan.
This biopic, which has been titled North Star, has also been described as "the coming-of-age story of 17-year-old Sheamie Sheridan, who lives with his rough-around-the-edges father and younger brother Frankie".
It will also be directed by Jim Sheridan himself, as it tells the story about his early life in Ireland during the 1960s.
Sheridan is of course known for directing films such as In The Name Of The Father and My Left Foot. 
Bono & The Edge "in discussions"
It has since been reported that Bono and the Edge are "in discussions to compose original music". 
Along with collaborating the score, the pair are also set to perform the track North Star. The film itself will also be produced by Spinning Gold director Timothy Scott Bogart.
The film has also been described as "A journey into the heart and soul of a family, Sheamie finds his world turned upside down when a teenage orphan moves in to live with them, revealing the deeper and more complicated problems Sheamie has with his dad; secrets that now threaten to tear the family apart". 
Elsewhere, a close friend of Bono's, Shane MacGowan has said that he cannot wait for the upcoming release of the U2 singer's memoir 'Surrender: 40 Songs, 1 Story'. 
The Pogues music icon hopes that Bono's hell raising antics will get mentioned in this book. The Pogues opened several of U2's gigs during the 1980s.
"Can't hardly wait to get my hands on Bono's memoir!", MacGowan tweeted. "It will be some salaciousness!!!". 
"He's really looking forward to it, we both are", Shane's wife Victoria Mary Clarke said of the upcoming release.
"I'm surprised Bono hasn't done it before. He's incredibly reflective, himself and Nick Cave are probably the two most reflective people I know". More on this from Nova here.