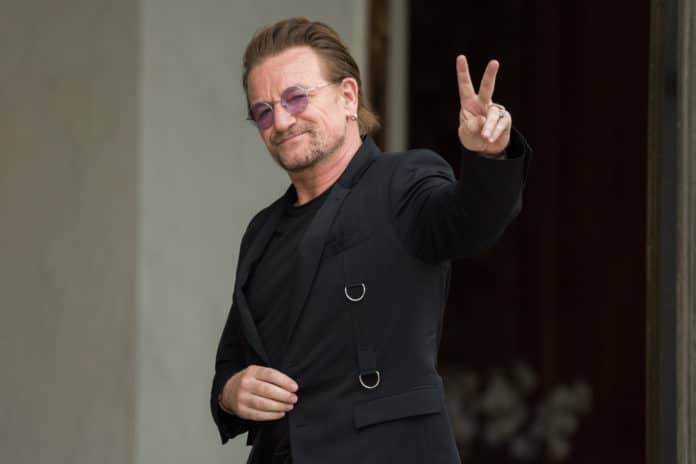 U2 frontman and Irish superstar Bono recently admitted that hearing some of his band's old songs makes him "cringe" with embarrassment. He also doubled down saying that he doesn't care for the band's name either. 
The Dublin-born band started out as mates in school before going on to sell more than 150 million records over the course of a four decades-long career. 
However, in an interview with the Awards Chatter podcast, frontman Bono shocked fans when he admitted that – barring the band's 2004 track 'Vertigo' – he finds it difficult to listen to U2 records.
Part of the distaste, the 61-year-old said, is that he feels his voice sounds "very strained" at the start of his career. 
"I've been in a car when one of our songs has come on the radio, and I've been the colour of – as we say in Dublin – scarlet," he told The Hollywood Reporter's Scott Feinberg.
"I'm just embarrassed. I do think U2 pushes out the boat on embarrassment quite a lot.
"And maybe that's the place to be as an artist is right at the edge of your level of pain for embarrassment, your level of embarrassment."
He added: "And the lyrics as well. I feel that on Boy and other albums it was sketched out very unique and original material. But I don't think I filled in the details."
Regardless of Bono's newly unearthed embarrassment, the band remains prolific having had 10 UK number one albums as well as seven chart-topping singles since they debuted in the early 1980s. 
Bono goes on to agree that U2 "sound amazing" but that he dislikes listening to the sound of his own voice, apart from on 'Vertigo'. The track originally featured on U2's 2004 album 'How to Dismantle an Atomic Bomb'. "Most of the other ones make me cringe a little bit," he said.
Later in the podcast, where Bono was joined by fellow U2 bandmate The Edge, the pair discussed how the group had never been particularly fond of their now-famous name. 
The Edge told Feinberg that 'U2' was originally meant to be called 'The Hype', later scrapping the idea as they felt it was unoriginal. 
When presented a list of possible band names by friend and graphic designer Steve Averill, Edge added: "Of the suggestions, it wasn't that it [U2] jumped out to us as the name we were really looking for, but it was the one that we hated the least".
While the group agreed that the name sounded "fresh" and original, they worried that it would not be "obvious from the name what this band would sound like or be about". 
"It was the one we chose and we didn't really love it at first."
"I still don't," offered Bono. "I really don't.