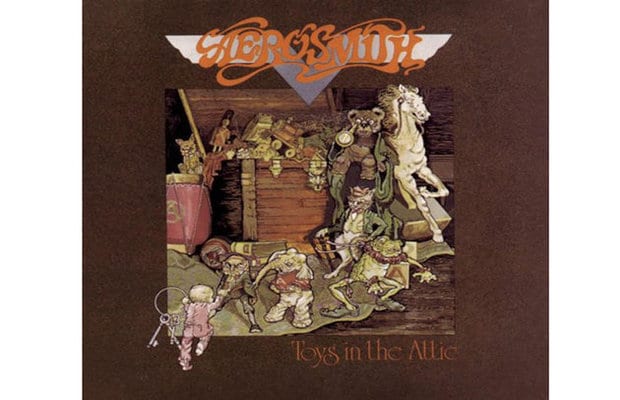 Toys in the Attic is the third album by American rock band Aerosmith, released in April 1975 by Columbia Records. Its first single release, "Sweet Emotion", was released a month later on May 19 and "Walk This Way" was later released on August 28 in the same year. The album is their most commercially successful studio LP in the US, with eight million copies sold, according to the RIAA.
Steven Tyler said that his original idea for the album cover was a teddy bear sitting in the attic with its wrist cut and stuffing spread across the floor. They decided, in the end, to put all of the animals in instead.
The album was ranked #229 on Rolling Stone's list of The 500 Greatest Albums of All Time. The album's title track is part of The Rock and Roll Hall of Fame's 500 Songs that Shaped Rock and Roll list.
For Aerosmith's previous album, 1974's Get Your Wings, the band began working with record producer Jack Douglas, who co-produced the album with Ray Colcord. Even though in the liner notes to the 1993 reissue of Greatest Hits it was said by an unnamed member of the group that they "nailed" the album, it was not a hit, only reaching #74 on the Billboard 200 and none of the album's singles charted.
At the beginning of 1975 the band started working at The Record Plant in New York City for the album that became Toys in the Attic. The sessions for Toys were produced by Douglas without Colcord – the album was engineered by Jay Messina with assistant engineers Rod O'Brien, Corky Stasiak and Dave Thoener. The songs for Toys were recorded with a Spectrasonics mixing board and a 16-track tape recorder.
When Toys in the Attic was released in April 1975, it eventually made #11 on the Billboard 200, a full 63 positions higher than Get Your Wings. The single release of "Sweet Emotion" became a minor hit on the Billboard Hot 100 reaching #36 in 1975 and "Walk This Way" reached #10 on the Hot 100 in 1977. The album also introduced to contemporary audiences "Big Ten Inch Record," an old R&B song originally recorded by Bull Moose Jackson in 1952.
For his review of Toys in the Attic for Allmusic, Stephen Thomas Erlewine called the album's style a mix of Led Zeppelin and The Rolling Stones riffs and was filled with songs about sex with a different style than there ever was before. Greg Kot called the album a landmark of hard rock. For the Blender magazine review, Ben Mitchell called Toys in the Attic cocaine-influenced and mentions the songs "Toys in the Attic", "Walk This Way", and "Sweet Emotion" as "standout tracks".
Track listing
Side one
No.
Title
Writer(s)
Length
1.
"Toys in the Attic"
Steven Tyler, Joe Perry
3:07
2.
"Uncle Salty"
Tyler, Tom Hamilton
4:09
3.
"Adam's Apple"
Tyler
4:33
4.
"Walk This Way"
Tyler, Perry
3:41
5.
"Big Ten Inch Record"
Fred Weismantel
2:16
Side two
No.
Title
Writer(s)
Length
1.
"Sweet Emotion"
Tyler, Hamilton
4:34
2.
"No More No More"
Tyler, Perry
4:34
3.
"Round and Round"
Tyler, Brad Whitford
5:03
4.
"You See Me Crying"
Tyler, Darren Solomon
5:12

Total length:

37:08