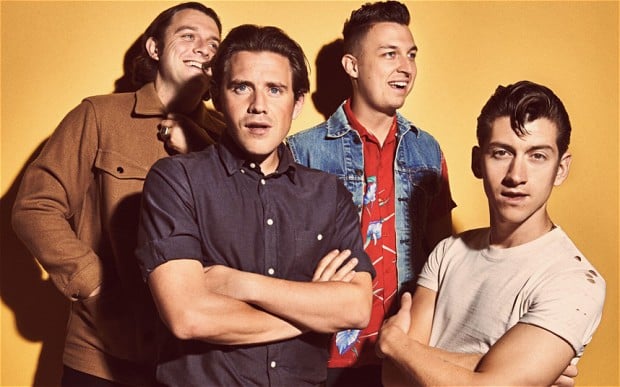 The Chinese calendar dictates that 2014 is the year of the horse, but in the music world, Monkeys and Beatles are dominating the foreseeable part of the New Year.
Arctic Monkeys resume back-to-back sold-out US dates later this month and also lead the way at this year's NME Awards.
In the shortlist, revealed this week, the Sheffield lads have eight nominations, including Best Album for last year's 'AM', Best Music Moment of the Year for their Glastonbury headline set last summer, while lead singer Alex Turner (who turned 28 earlier this month) is up for Hero of the Year – a title formerly bestowed on the likes of Noel Gallagher and Dave Grohl.
The NME Awards take place on February 26th at The O2 in London. You can have your say on who picks up what at www.nme.com/awards.
On the other side of the Atlantic, the 2014 Grammy Awards will pay tribute to The Beatles, with the surviving members in attendance. Five decades after arriving on US shores, Paul McCartney and Ringo Starr are set to come together to perform at the show, where they'll also pick up the 2014 Recording Academy Lifetime Achievement Award.
Paul's also nominated for four other Grammys, including Best Rock Song for his recent collaboration with Dave Grohl: 'Cut Me Some Slack', which was written and recorded in just three hours for Grohl's documentary on Sound City Studios in California. The Grammys will be broadcast on February 9th: 50 years to the day the Fab Four made their U.S. tv début on The Ed Sullivan Show.
Rockumentary: 'The Night That Changed America: A Grammy Salute To The Beatles' will also be shown after the awards, where The Eurythmics are set to reunite to salute the Liverpool band. And well deserved too. Although after more than 50 years of genius, I'm not sure The Beatles' trophy cabinet can carry that weight…
Dee Woods, Nova Nights Mon – Fri from 7pm and Saturdays 10am-2pm
@RaDeeOh