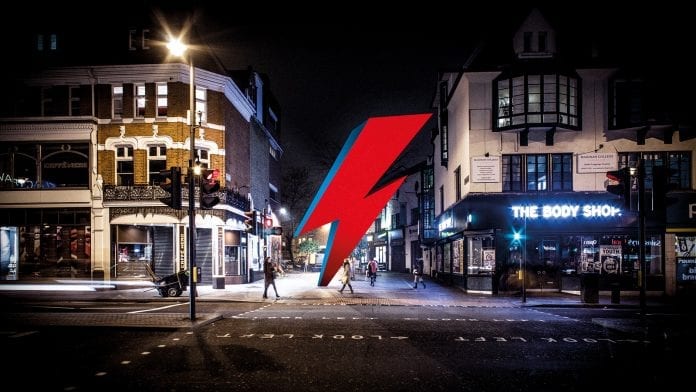 Last month we reported that Members of the Brixton Community and Bowie fans were rallying together to try and get a memorial to Bowie built.
The organisers behind the plans have now sadly confirmed that they have failed to raise enough money for the project marking the late music icon.
The proposed memorial was to be placed on Stansfield Road in Brixton, which is a stone's throw away from Bowie's birthplace, and had been designed in consultation with Bowie's teams in New York and London. The project also had the support of Lambeth Council.
The 'ZiggyZag' sculpture was intended to recreate Duffy's Aladdin Sane LP cover in gravity-defying red and blue-sprayed stainless steel.
The crowdfunding project's goal was to raise £900,000 but only managed to gather £50,000 from fans in four weeks. None of the funds will be taken following the project's collapse.
In a statement on the projects site, orgainsers thanked fans "from the bottom of our Bowie-obsessed hearts for supporting us."
They added, "Trying to raise nearly a million in just four weeks was always an incredibly tall order. We took a risk in adopting this approach to raising the cash, and while we know that with time we would eventually meet enough moonage daydreamers like us to make this happen, extended time is one thing that the crowdfunding model doesn't deliver."
Organisers have said that they still hope to create an alternate memorial, "We are still determined to celebrate David Bowie, in Brixton, with a challenging and appropriate piece of public art. We're just going to have to approach the fundraising in a different way."
Photo Cred: David Bowie Crowdfund