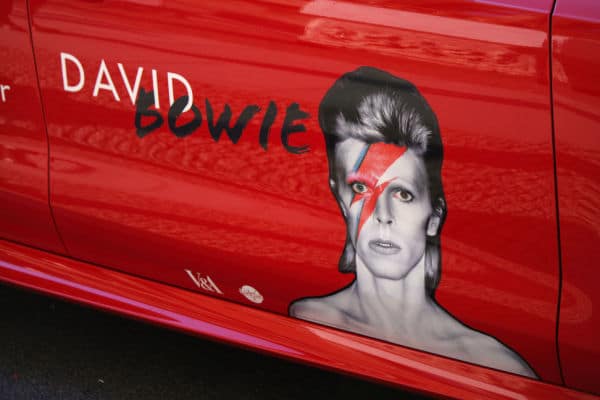 Would you like to listen to the article instead of reading it?
David Bowie always wanted to revive his Ziggy Stardust for a comeback tour, according to the late singer's manager Tony Defries.
Defries made this revelation during a recent interview, where he claimed that they "tried and failed" to ressurect the iconic Bowie alter ego for a reunion tour.
Bowie who passed away in 2016 from cancer, bid farewell to his alien rock alter ego Ziggy Stardust at a gig at London's Hammersmith Odeon in 1973.
"wasn't the ideal situation" 
However according to Defries, reuniting with Ziggy Stardust was always on the to do list for Bowie.
"Basically, I think success wasn't the ideal situation for David", he said.
Defries continued, "When [1973 album] 'Aladdin Sane' was selling enormous quantities and crowds were shutting down railway stations, just to get a glance of him, I think that's when it all began to sink in, that he was no longer an ordinary person. The Ziggy effect was taking hold and he couldn't cope with it, really".
Mr Defries also explained that David Bowie was inspired by the late Frank Sinatra, who retired from music, before returning to the industry two years later.
"David was a big Sinatra fan. Making the comeback is the key thing", he revealed.
"We tried and failed to get promoters in America to book [a Bowie / Ziggy Stardust comeback tour] into large arenas as a headliner. So, that was a real reason for retiring Ziggy, to be honest with you … nothing to do with music or style or anything else".
Bowie Wanted To Launch Ziggy Stardust In Space
Back in 2020, Phil Campbell who worked with Bowie on his album 'Omikron: The Nomad Soul', had also claimed that the late singer was keen to relaunch Ziggy Stardust in space.
"We talked about buying up a bunch of old satellites that were circling the Earth and he was going to relaunch Ziggyt from space", Campbell said at the time.
"The idea was that Ziggy would beam us transmissions – 'Are you receiving me…?'". 
Last month, it was also confirmed that over 80,000 items associated with David Bowie including costumes, album artwork, handwritten lyrics among others, were to go up on display for the first time.
This was launched by the London Victoria and Albert Musuem, who set up the The David Bowie Centre for the Study of Performing Arts. Find out more here.