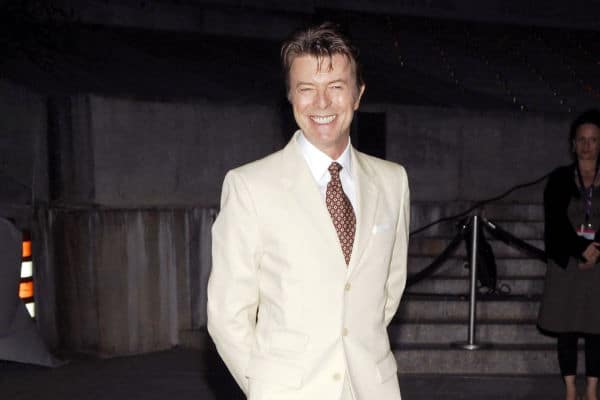 Over 80,000 items associated with the late music icon David Bowie are to open to the public for the first time. Such items include, handwritten lyrics, costumes, album artwork and awards.
This is a display set up for the The David Bowie Centre for the Study of Performing Arts, which has been launched by the London Victoria and Albert Musuem.
It will be launched at the venue V&A East Storehouse, which will showcase archived material in 2025.
This special collection looks back at the life and career of David Bowie.
Covering six decades of a hugely illustrious career from the 1960s to his death in 2016, this will include instruments, letters, photographs, sheet music, music videos, along with set designs.
The display will also showcase unrealised projects.
Iconic Bowie Items On Display
Standout items on display include some iconic costumes worn by Bowie in his career.
Such costumes also include Bowie's breakthrough Ziggy Stardust outfits. Others also include the Kansai Yanamoto's creations for the singer's 1973 Aladdin Tour.
The famous Union Jack outfit created by Bowie and Alexander McQueen for his Eartling album cover will also feature.
Other famous items include handwritten lyrics for Bowie tracks 'Heroes', 'Fame', and 'Ashes to Ashes'.
"inspire creatives"
Speaking about the collection, V&S director Dr Tristram Hunt paid tribute to Bowie, calling him "one of the greatest musicians and performers of all time". 
He also added that he was "thrilled to become custodians of his incredible archive" and to open it to the public". 
"Bowie's radical innovations across music, theatre, film, fashion, and style – from Berlin to Tokyo to London – continue to influence design and visual culture and inspire creatives from Janelle Monae to Lady Gaga to Tilda Swinton and Raf Simons", Dr Trastram also stated.
These comments were also echoed by Max Lousada, chief executive of recorded music at Warner Music Group.
"As the stewards of David Bowie's extraordinary music catalogue, we're delighted to expand our relationship with his estate through this partnership with the V&A", Lousada said.
He also added, "This archive promises to be an unparalleled display of individual artistic brilliance, invention, and transformation. Bowie's influence only grows in stature over time, and this will be an enduring celebration of his profound legacy". 
Speaking of handwritten lyrics, the words scribed by Bowie for 'Jean Genie' were also sold for £57,000 at a recent auction. Find out more here.