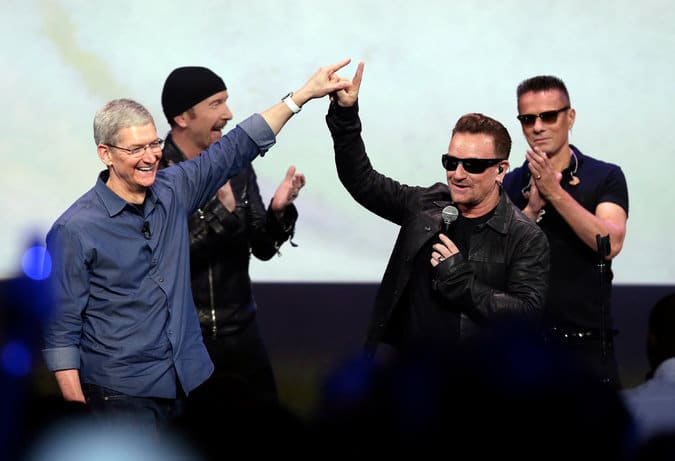 All the praying can end – U2 release their new album and you can listen to it exclusively here on NOVA at 1pm ad free.
Now we know not everyone has an iTunes account, so being the considerate rock station that we are, NOVA will play the new LP in full at lunchtime.
Our very own Dee Woods and Marty Miller are putting in the extra hours today, to take you through the new record track by track.
Last night, U2 unveiled their new album Songs Of Innocence at Apple's iPhone 6 launch. Not only is there a new record but it is a free giveaway, accessible to half a billion iTunes accounts.
It is a bold move from the Irish rockers but it is exactly the kind of innovative thinking that has kept the band relevant since their first release in 1980.
Speaking to Rolling Stone, Bono said, "We wanted to make a very personal album. Let's try to figure out why we wanted to be in a band, the relationships around the band, our friendships, our lovers, our family. The whole album is first journeys — first journeys geographically, spiritually, sexually. And that's hard. But we went there."
Songs of Innocence charts "the band's earliest influences from 70s rock and punk rock to early 80s electronica and ambient music and giving insight into how and why the band came together."
Giving details about the opening track on U2.com "The 4 members of U2 went to see the Ramones playing in the state cinema in Dublin without thinking about how we were going to get in. we had no tickets and no money.. My best friend Guggi had a ticket and he snuck us through a side exit he pried open. The world stopped long enough for us to get on it. Even though we only saw half the show, it became one of the great nights of our life…."
Radio NOVA plays the new U2 album in full at 1pm September 10th, listen to Songs of Innocence here.
Songs of Innocence has 11 songs and will be officially released in physical form on October 13th.
The track listing for Songs Of Innocence:
The Miracle (of Joey Ramone)
Every Breaking Wave
California (There Is No End To Love)
Song For Someone
Iris (Hold Me Close)
Volcano
Raised By Wolves
Cedarwood Road
Sleep Like A Baby Tonight
This Is Where You Can Read Me Now
Troubles