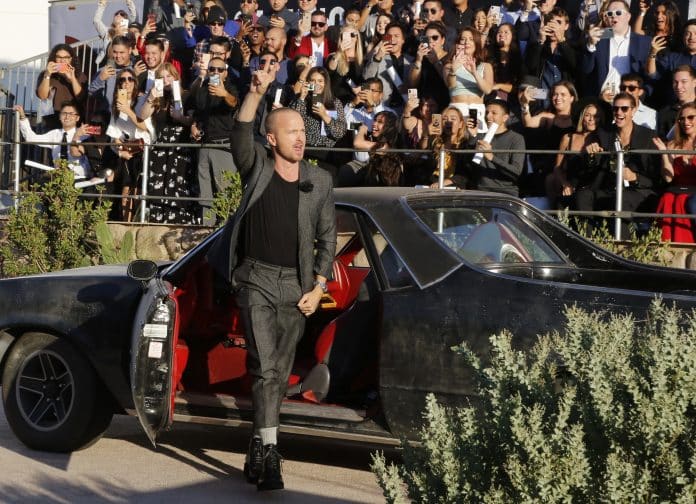 The cast of Breaking Bad, including Aaron Paul, Bryan Cranston and Jesse Plemons,  have reunited for the premiere of EL CAMINO: A BREAKING BAD MOVIE some six years after the acclaimed Netflix drama came to an end.
The show's cast joined forces on the red carpet in Los Angeles to watch the Breaking Bad movie for the first time, ahead of its release on October 11.
Famous fans of the long-standing series and Better Call Saul cast joined together to celebrate the premiere, including Alex Winter, Arielle Vandenberg, Bobby Berk, Charlie Barnett, Chloe Bailey, Derek Hough, Ed Begley Jr., Eiza Gonzales, Halle Bailey, Kevin Rankin, Kirsten Dunst, Mark Hamill, Weird Al Yankovic and many more!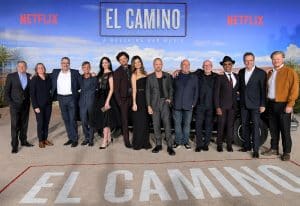 Highlights from the evening included:
In true Jesse Pinkman fashion, Aaron Paul arrived at the premiere in movie's el camino flanked by police cars.
It was a Jesse Pinkman and Walter White reunion when Aaron Paul and Bryan Cranston embraced each other on the carpet only to be joined by creator Vince Gilligan.
Two worlds collided, when Jesse Pinkman (Aaron Paul) met Luke Skywalker (Mark Hamill) – in the ultimate fan favorite moment.
Krysten Ritter stuns at the Breaking Bad reunion in a sparkling black ensemble.
EL CAMINO: A BREAKING BAD MOVIE reunites fans with Jesse Pinkman (Emmy-winner Aaron Paul). In the wake of his dramatic escape from captivity, Jesse must come to terms with his past in order to forge some kind of future.
The gripping thriller is written and directed by Vince Gilligan, the creator of Breaking Bad. Matt Jones and Charles Baker will also reprise their roles as Jesse's delinquent friends Badger and Skinny Pete.
Describing his return to the Breaking Bad world, Aaron Paul told NME: "This is very odd. Less than ten years ago, I didn't know how I was going to pay my bills so Vince Gilligan gave me an opportunity to spread my wings."
Cranston, meanwhile, previously admitted that he'd be up for reprising the role of Walt – even if only in flashback sequences.
"I have not gotten the script… so there's a question of whether we'd even see Walter White in this movie," the star said. "If Vince Gilligan asked me to do it, sure, absolutely. He's a genius. It's a great story, and there's a lot of people who felt that they wanted to see some sort of completion to some of these storylines that were left open."