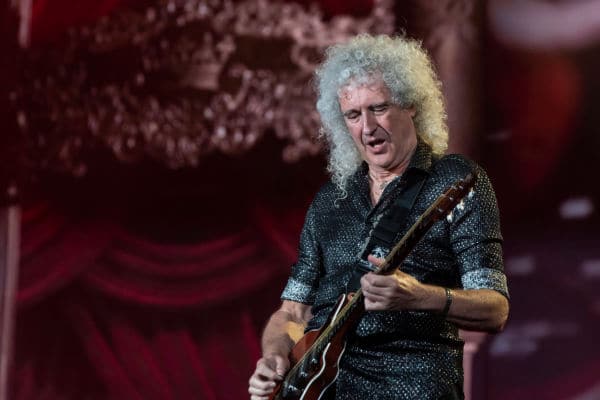 Brian May has hinted that he could even return to touring as he received his Knighthood from King Charles III this morning.
The legendary Queen guitarist was honoured for his services to music and charity.
Alongside the Roger Taylor, John Deacon and the late Freddie Mercury, Brian May produced countless number hits, as Queen became one of the greatest rock bands of all time.
May has also been credited with a myriad of these hits, including 'Bohemian Rhapsody', 'We Will Rock You', 'One Vision', 'Don't Stop Me Now', 'We Are The Champions' among others.
May is also an astrophysicist and keen animal welfare advocate.
"means a lot"
In an interview, Brian May spoke of his obvious delight to receive his honour from the King.
 "I am very happy, smiling from ear-to-ear, particularly because it was the King, which means a lot", he said.
The musician also added, "We've had a certain amount of contact over the years and we're of an age, so I have a strong feeling for him and it was a lovely moment".
"We discussed the fact that we are of an age and he was wondering if my knees were holding out for the kneeling part of the ceremony. I said: 'Yes, just about". 
"To receive this award I suppose feels like getting approval, like when you get a gold star at school – perhaps you've done something and you know what you've achieved and if you get that seal of approbation from above, then it's a very good feeling, it's very special". 
"always great"
These days, Queen are fronted by American Idol winner Adam Lambert. May has also revealed that he has no intentons of slowing down, despite his success.
"We're thinking about touring, I can say that", May told the PA News agency. "I'm hoping I stay in good health – at the moment I seem to be in pretty good health, which is always great". 
"It's not been an easy road and there's been times I thought I would never do it again", he continued.
"But we all seem to be OK so we're looking at doing some touring, and of course we tour at the top level and it's very high energy and high demand on your fitness".
"If we don't go out until October or whatever I'll be working on my fitness from now on" he also revealed.
Last month, Brian May also stated that Freddie Mercury would have wanted Queen to continue after his death. More on this from Nova here.