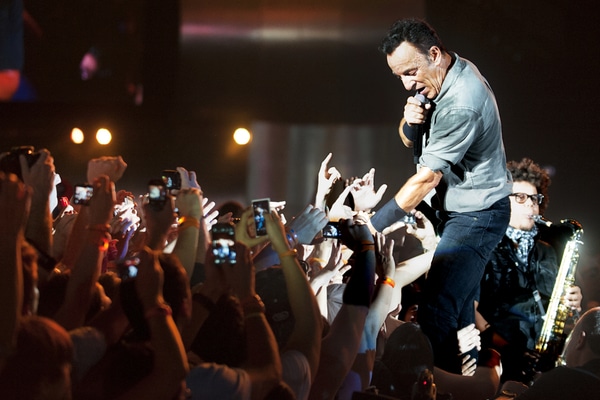 The drinks are on The Boss.
Bruce Springsteen was 2021's highest earning musician, thanks largely to the lucrative sale of his publishing rights.
Springsteen reportedly earned a whopping $590million last year. Selling his back catalogue to Sony brought in the bulk of that figure with a deal worth $550 million agreed in December. The deal made history as the biggest of its kind to date and gives Sony control of Springsteen's 20 studio albums, 300 songs, seven EPs and 23 live records.
It had initially been estimated that Springsteen would earn $350 million from the sale, but he ultimately came out a lot better off.
The rest of Springsteeen's healthy earnings came from a combination of his summer Broadway shows and his two projects with former US president Barack Obama: the Renegades: Born in the USA podcast and a book of the same name.
While the pandemic saw smaller acts struggling to stay afloat minus the revenue of live shows, the industry's top acts weren't short of change in 2021. The 10 highest earning musicians of the year made a total of $2.3 billion between them, doubling their pre-pandemic earnings.
Much of that figure comes from artists flogging their back catalogues, with investors scrambling to get their hands on the rights to musicians' work.
"These are almost like pieces of art — there's a finite number of real, super-high-quality hit songs from the past — and there's this sort of all-out grab to own those rights," said Josh Gruss, whose company Round Hill Music has splashed over $1.3 billion acquiring music copyrights over the last decade. "It's a very steady stream of revenue that's there, and that makes it very attractive for investment."
Others in the Top 10 2021 earners to cash in on their back catalogues are Paul Simon, who made $260 million largely through the sale of his rights to Sony; Ryan Tedder, who pulled in $200 million through a deal with private-equity form KKR; Red Hot Chili Peppers, who earned $140 million by selling their catalogue to Hipgnosis; Lindsey Buckingham, who followed the lead of his former Fleetwood Mac bandmate Stevie Nicks in selling his rights for a sum close to $100 million; Motley Crue, who sold their masters to BMG for $90 million; and Blake Shelton, who landed over $50 million through the sale of his catalogue.
Some musicians made their 2021 fortune through business rather than artistic savvy. The year's second highest earner was Jazy-Z, who made $300 million by selling half of his Armand de Brignac champagne business and a similar figure by selling 80% of his streaming service Tidal.