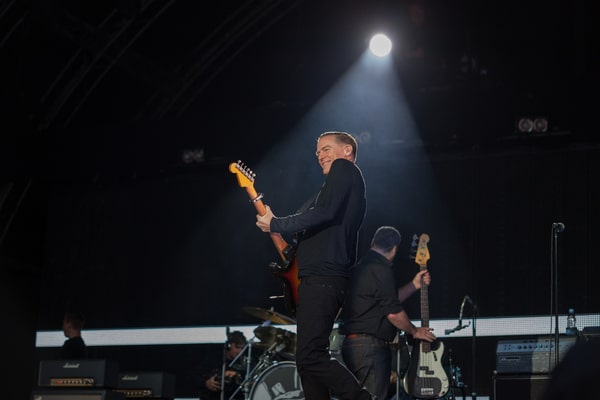 Bryan Adams has explained why he was unable to enjoy the "surreal" success of his 1991 hit '(Everything I Do) I Do It For You'.
The single which spent a record 16 weeks at No 1 at the UK Charts, was also the lead track in the 1991 film Robin Hood: Prince Of Thieves.
The Grammy winning tune presently stands 21st in the Billboard Hot 100 best selling singles of all time. It also helped to extend Adams' touring duties during the first half of the 1990s.
It was so successful, that Bryan Adams even called it "one of those songs [that] appealed to people who never buy records. … Though some people didn't understand what was being said in the song – people from other languages and cultures – they got the emotion of the song.
Adding, "The lyric is quite simple in its sentiment, but it was a sentiment that went around the globe. It was all-pervasive".
"make him big in America again"
Elsewhere, Bryan Adams has denied enduring a difficult period in his life towards the latter end of the 1990s.
However, he did admit that his record contract was bought out, forcing him to move to the Interscope Record Label.
It was at this point that an executive told Adams about plans to "make him big in America all over again".
'We're gonna do MTV Unplugged!'", the singer said. "I said, 'Ah, yeah, that's a really good idea. Except my last album was MTV Unplugged. I think the next time you come around, man, you should do your research".
Bryan Adams also spoke about another one of his iconic hits 'Summer Of 69', a track which he admitted writing because it "made me laugh. [It] was not a big hit in Europe when it was released as a single in 1985".
"Even though the song had a little bit of a life in North America, it took 10 years for it to become well known. It never even hit the charts in the U.K", Adams said. "And so perhaps there's something about the songs that we write that just don't necessarily have that instant appeal. But in the long term, they climb out of the wreckage".
Bryan Adams' latest album 'So Happy It Hurts' arrives today (March 11). This record also features the track 'Kick Ass' which includes a cameo from legendary comic John Cleese.
My 15th album, "So Happy It Hurts" is OUT NOW along with a new video for "Always Have, Always Will."https://t.co/Z9VYxPJewo
VIDEO https://t.co/GEno89ZRoE #SoHappyItHurts pic.twitter.com/vclvlT4im2

— Bryan Adams (@bryanadams) March 11, 2022