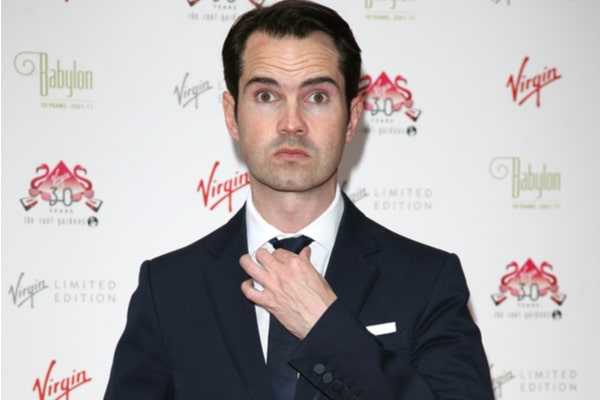 Protestors congregated outside a Jimmy Carr comedy show last night chanting, "roll up, roll up. See the racist!" During a segment of his comedy Netflix special, His Dark Material, Carr recited material deemed racist toward Romanian gypsies and the travelling community. Huge crowds gathered last night with drums and a Romani flag, amid continued fury at the comedian's Holocaust joke.
The comedian faces strong criticism for saying "nobody talks about the positives" while referencing the Nazi murders of thousands of travelling communities. Labelling the joke "racist", protestor Martin Ward said as a traveller he was "absolutely disgusted" by the comment. Ward said, "We feel violated," as he suggests Carr should "hurry up and apologise to all the communities you've offended."
Prior to the Cambridge show, it was revealed that Carr would be scrapping the controversial gag from his act. However, around 100 protestors still arrived to protest and had been filmed standing outside Cambridge's Corn Exchange yesterday evening. The group could be heard banging a drum and shouting "Jimmy Carr, shame on you," as they held banners and placards with messages such as "mass murder in the Holocaust is no joke".
Demonstrators attending last night's protest handed out leaflets on the Holocaust to gig attendees as they went inside. Martin Ward, who is the nephew of bare-knuckle boxer Paddy Doherty and cousin of X-Factor winner Shayne Ward, travelled 70 miles from his home in Kent to attend the protest. Speaking at last night's protest, the protestor said people attending the Carr gig "should be ashamed of themselves" as the comedian's joke was "a disgrace. It's pushing the level too far."
With one man telling reporters that "the joke is just words. It's freedom of speech," others feel Carr has overstepped boundaries. Ward feels organisers "should have cancelled the show. I get that it's freedom of speech, but you've got to know what you're talking about before you say that."