What do you do when you're hosting a cooking and travel show but you can't travel?
You open the photo album, reminisce, create and cook recipes inspired by some of the places previously visited!
Tastes Like Home will return to our screens Monday's on RTE ONE at 830pm for eight delicious weeks so we can travel from our couch and be inspired in the kitchen.
Over the fifth series Catherine Fulvio, revisits Cape Town and Johannesburg in South Africa, Vancouver and Tiny Township in Canada, San Sebastián and Barcelona in Spain, as well as Dubai and Portland, Oregon to capture eight individual stories, from contestants who refuse to let the physical distance from home curb their appetite for home-cooked meal that "Tastes Like Home".
She explained it all to Colm & Lucy
Scroll down for Catherine's recipe when she revisits Vancouver on the show and catch the show on RTE ONE Monday's at 830pm
Part of world travel is stepping out your comfort zone, just as @Cfulvio did when she got up close and personal with some South African Native wildlife! See dishes inspired by the trip on Monday, 8.30pm, @RTEOne – proudly sponsored by @BellingIreland pic.twitter.com/9m50JHvWwO

— Catherine Celebrates (@TLHwithCFulvio) September 3, 2020
Chicken Nanban, Tartar Sauce, Asian Slaw, Tare Dipping Sauce
Serves 4
For the tare dipping sauce  
60ml rice vinegar 

90ml soy sauce 

3 tbsp mirin 

2 tbsp caster sugar 

2 tsp red chilli flakes
For the slaw 
4

spring onions sliced

2 medium carrots, peeled and grated 

½ small red cabbage, very finely shredded 

1 Wombok or Pak Choy, sliced 

50g mangetout, very sliced thinly

2 tbsp sesame oil

1 tbsp lime juice

(and 3 tbsp of the Tare as above)
For the tartar sauce
½ red onion, or 2 small shallots, finely chopped 

200g mayonnaise

2 large hard-boiled eggs, finely chopped

2 tbsp gherkins, finely chopped

2 tbsp flat-leaf parsley, finely chopped

Salt & freshly ground black pepper
For the chicken
4 small chicken breasts, ( sliced in half & flatten thinner )

2 eggs, beaten

100g plain flour 

60g cornflour

½ tsp red pepper flakes

½ tsp salt
Japanese rice, to serve
Toasted sesame seeds, to garnish 

Coriander, to garnish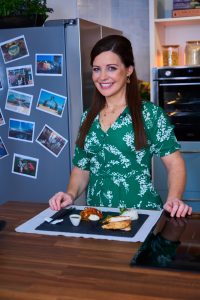 For the tare sauce, combine all the ingredients for the sauce into a saucepan and heat over a medium low heat.  Stirring until the sugar is dissolved and continue to simmer for 4 minutes. Set aside to cool. 
For the salad, combine all the ingredients together in a bowl.  Take 3 tbsp of the dressing and add the sesame oil and lime juice, mix well and toss into the salad. Set aside. 
For the tartar sauce, in a bowl, mix all the ingredients together and check for seasoning, adding salt and pepper to taste.