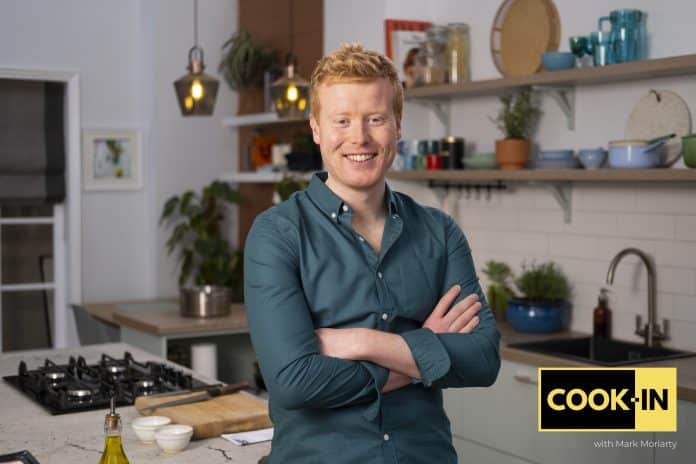 It is all about cooking in our newly restricted lifestyles and so RTÉ One has a brand-new eight-part cookery series for us to enjoy Wednesday nights at 830pm
Cook-In with award-winning chef Mark Moriarty is all about using the ingredients we all have at the back of the kitchen cupboard. 
Mark, who is splitting his time filming this new series and feeding frontline staff spoke to Colm & Lucy about the new show…
Cook-In has plenty of recipes that will meet all your lockdown needs whether you are living alone or cooking for the whole family.
Mark also gave Colm & Lucy his recipe on baking traditional Irish soda bread with a cheesy, veggie twist.
Cheesy white soda loaf
Serves 6 
Base:
500g plain white flour
1 tsp bread soda
2 tbsp salt
20ml olive oil
400ml buttermilk (if you can't get buttermilk, add yoghurt and lemon juice to milk)
Additional:
50g mature Irish cheddar cheese, grated
100g red Irish cheddar, cut into small chunks
100g leftover roast vegetables (Carrot, squash, red pepper, parsnip)
Handful of cooked Spinach (or kale if you have it)
Optional:50g Mixed Nuts (or any nuts you have)
1 tbsp chilli powder
Method : 
Mix the plain flour, bread soda and salt in a bowl.
Add the buttermilk and olive oil together, and pour into a well in the centre of the dry mix.
Use your hands to bring the mix together, but don't overmix, as the finished product will become dense.
Add any additional ingredients at this point, and mix until evenly distributed.
Place the mix on a floured surface and roughly shape into a circle, pat down the top of the dough.
Cut 4 small lines across the top of the dough to create 8 wedge shapes, brush the wedge sections with a little extra buttermilk and sprinkle with chilli powder and salt, leave a gap where you cut the lines
Bake in a preheated oven at 190c for 30-35mins until the base sounds hollow to tap
Cool on a wire rack, then tear and share.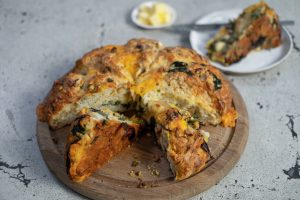 Mark Moriarty said: "I am delighted to be presenting Cook-in sponsored by Bord Bia which I hope will give you useful and practical advice for creating simple dishes, while you stay safe at home during the ongoing pandemic. It is all about using what you already have in the kitchen cupboard and giving it a new lease of life, seeing as we can't head to the supermarket as frequently as usual. I'll be taking inspiration from the food we usually cook after work in the restaurant as well as my new found experience in preparing food for frontline workers; meals that have to be prepared quickly, on a budget, using what you've got leftover and of course, they have to be delicious. I'm aiming to keep things simple, using three or four steps for each dish – but hopefully, my experience as a chef and knowledge of ingredients can help elevate your cupboard essentials into a delicious dish."
He added: "I'm extremely proud to be working alongside Bord Bia and RTÉ and showcasing the fantastic ingredients and food producers we can boast of here in Ireland. It's a difficult time for many industries.  I hope we can showcase the hard work being done in the food and drink industry in Ireland right now, keeping shelves stocked and businesses afloat."