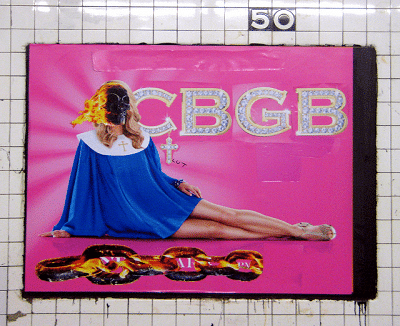 The third annual CBGB music and film festival returns to New York City this October 8th-12th.
Since beginning two years ago, the festival has gone from strength to strength. This year will feature music, films, industry talks and special events all across New York City.
The five-day event will take place in various clubs, galleries, and roof tops.
This year's event will feature indie bands such as, We Are Scientists and Surfer Blood, as well as '70s rock band Devo and '80s rockers Jane's Addiction. Devo will not only be performing at the festival, they will be premiering their film, Are We Not Men? The Devo Documentary.
The famous New York venue became a music club for punk rockers and new wave bands like The Ramones, Blondie and Talking Heads in the 1970s. The club closed in 2006, with a farewell performance from Patti Smith.
The CBGB music festival and film festival began in 2012, CBGB's co-owner Tim Hayes, released a statement encouraging creativity at the event, he said:
"We continue to support emerging and established talent who represent music and film in all their forms. For us, music transcends space and sharing it with fans in a unique form is something we are very passionate about."
The festival will be celebrating the 30th anniversary of the hilarious spoof rock documentary, This Is Spinal Tap.
Other films to look out for include, The Winding Stream, a documentary about the Carter and Cash families and their contribution to American roots music, Living Is Easy With Eyes Closed, a film about a Spanish teacher of English who meets John Lennon when he was filming in Spain in 1966 and I Need A Dodge, a documentary telling the tale of Clash member Joe Strummer's time in Spain.
Green Day's frontman Billie Joe Armstrong, will star in the movie, Like Sunday, Like Rain, a film about a struggling musician who becomes the guardian of a musical prodigy for a summer.
Other recommendations are, Salad Days: The Birth of Punk in the Nation's Capital and Riot on The Dance Floor, a documentary on DJ Randy Now and the legendary music venue City Gardens.
Watch a few the CBGB film festival trailers below.