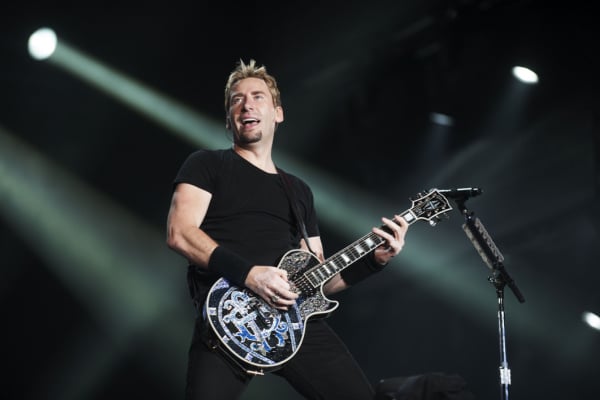 Would you like to listen to the article instead of reading it?
Chad Kroeger hopes that Nickleback's official documentary will bring an end to the much publicised backlash that himself and the rest of band have faced, despite so much commercial success.
Kroeger is hoping that the recently premiered 'Hate To Love: Nickleback', will bring an end to this bad press. The documentary was premiered at this year's Toronto Film Festival.
"tell our version"
Speaking at the festival, Chad Kroeger admitted that he was initially unsure about discussing the issue of the band's backlash from the public in this documentary.
Explaining his reasons for being hesitant, Kroeger had this to say.
"If somebody stuck that thing in your face every single day and said, 'The whole world hates you like this, the whole world hates you", he said. "What do you have to say about that? Every single day. Every day. Would there be reluctance on your behalf to talk about it?
He also added, "Would you get p***** off? Would you be over it after a while?".
Kroeger continued, "I'm over it. We made a documentary. Everybody can watch it. And now from this day forward, if anybody asks that question in the press, it's like that's the end of the interview".
"So if you want to end an interview, that's all you have to say and that will be it".
However, it was bandmate Ryan Peake who convinced to bring the topic to the forefront of the film.
"We get to take the narrative", Peake said. "We get to actually tell our version. It's like you turn the cheek for as much as you can, and then at some point it's, like, 'Here's our take on it".
'Hate To Love: Nickleback' premiered over the week. Check out the trailer below.
It took a minute, but today is the day. 'Hate To Love: Nickelback' premieres TONIGHT at #TIFF23!https://t.co/4xcVJgopnu pic.twitter.com/8B5YxfGE09

— Nickelback (@Nickelback) September 8, 2023
Why Always Nickleback?
This much publicised backlash that Nickleback has even become the topic of discussion at university level.
In 2016, Salli Anttonen a student from the University of Eastern Finland conducted a study surrounding this phenomenon.
Finnish reviews of the band were investigated as part of this study. It was titled, "Hypocritical Bullshit Performed Through Gritted Teeth: Authenticity Discourses In Nickelback's Album Reviews In Finnish Media".
The study according to Antonnen, found that the hatred towards Nickleback grew as their popularity did.
"It became a phenomenon where the journalists were using the same (reasons) to bash them, and almost making an art out of ridiculing them", the study noted.
Antonnen added, "NICKELBACK is too much of everything to be enough of something. They follow genre expectations too well, which is seen as empty imitation, but also not well enough, which is read as commercial tactics and as a lack of a stable and sincere identity".
Back in 2021, the band also faced a copyright lawsuit over their track 'Rockstar'. More here.