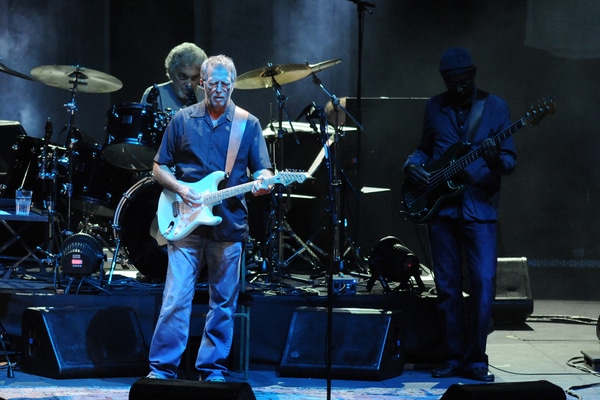 Eric Clapton has released his latest single "This Has Gotta Stop". You can check out this track below.
This track goes beyond his complaints regarding lockdown and Covid vaccines.
"This Has Gotta Stop" also appears to cast an eye on on political figures, rampant groupthink, increasing technological interference and environmental issues.
The song comes after Clapton had collaborated on the anti-lockdown track "Stand And Deliver" with Van Morrison last November.
Produced by longtime collaborator Simon Climie, "This Has Gotta Stop" also featured singer Sharon White, drummer Sonny Emery and bassist Nathan East.
Nick Ingman also conducted and arranged strings which were led by Perry Montague-Mason. Dave Kaplan and the Machine That Eats also directed the animated video.
Clapton on lockdown and the vaccine
Eric Clapton has been very outspoken in his views on the Covid vaccine and lockdowns.
Back in June, the singer had claimed he had been studying "alternative data" via YouTube. They called for a "focused protection" on those at risk of Covid-19 and a return to normal life for the rest of society.
This has been dismissed by the World Health Organisation.
"The more I got into that, the more I realised I was distancing myself not only from the government but from the rest of the public too", Clapton said. More on this here.
Clapton had previously claimed that he had a "disastrous" reaction to the vaccine. He also went on to criticise the "propaganda" regarding the vaccine's safety.
In a letter to anti-lockdown activist Robin Monotti, Clapton wrote, "About six weeks later I was offered and took the second AZ shot, but with a little more knowledge of the dangers. Needless to say the reactions were disastrous, my hands and feet were either frozen, numb or burning, and pretty much useless for two weeks, I feared I would never play again, (I suffer with peripheral neuropathy and should never have gone near the needle.) But the propaganda said the vaccine was safe for everyone".
The singer had recently said that he will not play at music venues that have a vaccine requirment. More on this here.
Clapton's views have also received huge criticism from the likes of Brian May, who branded anti-vaxxers "fruitcakes".