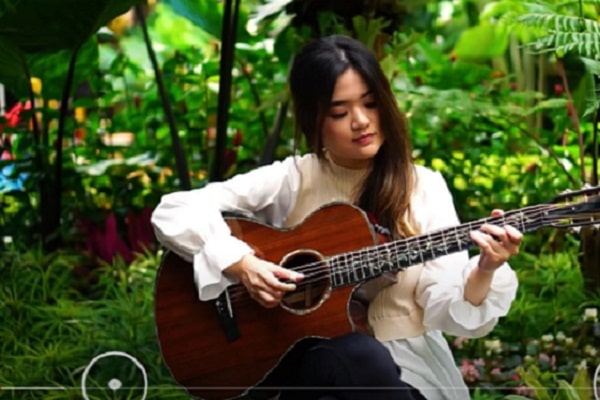 Guns N'Roses "Welcome To The Jungle" is such an iconic track.
It is so iconic in fact that, many people have delivered their own covers of the rock hit. However once in a while, you get an artist who releases their own unique version.
Say hello to Indonesian guitarist Josephine Alexandra.
The singer has just released a completely rearranged version from a fingerstyle acoustic melody, where she plays every single part in one take.
The fingerstyle version
Check out the track below.
Josephine Alexandra is certainly a singer that has made waves online. Her YouTube channel has earned an impressive 1.74 million subscribers.
Her unqiue style of finger acoustic covering has also stretched to hits like Green Day's "American Idiot", Nirvana's "Smells Like Team Spirit" and Linkin Park's "Waiting For The End".
With her Taylor PS12ce 12-fret acoustic guitar, Alexandra delivers this fingerstyle cover for these tracks.
For Guns N'Roses "Welcome To The Jungle", she also effortlessly overlays the melody of Axl Rose's vocal lines on top.
She also delivers this multi-faceted passage which is based on the track's chord progression for this part.
Guns N'Roses
Speaking of Guns N'Roses, the band shared their new track "Absurd" last year.
The song was first written in 2001 and had faced a series of revamps. It featured on their sixth album "Chinese Democracy" in 2008, having intially being called "Silkworms".
It faced a number of revamps, with the band's Axl Rose introducing the track last year.
"Some of you might have heard this under another name, but this is really kind of absurd to try this", they wrote. "Wasn't that funny? And they don't even know the joke yet. Okay, this is called 'Absurd". Check out the track and more here.
Rose's bandmate Slash recently said that he had felt "resentful" over Izzy Stradlin's departure from the band back in 1991.
"There was no judgement about any of that. I don't think anybody judged anybody else on how they behaved outside of being able to show up and do the gig. I was admittedly resentful of that whole trip with Izzy leaving, because whatever had gone on for him that forced that sudden change, I was like, man, I died eighteen times prior to that! It didn't faze me!", Slash said.