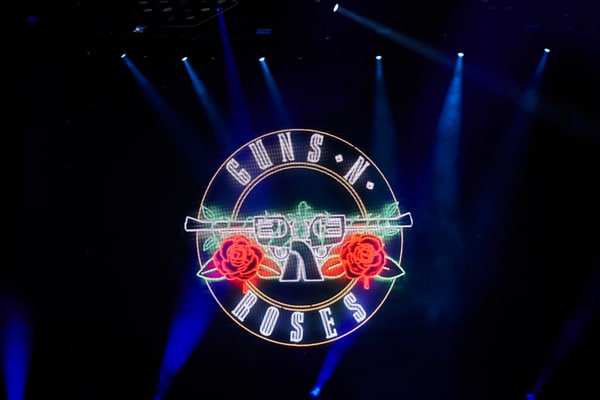 Guns N'Roses have released a full studio version of their new track "Absurd".
Originally written in 2001, the track was intially called "Silkworms". It had been recorded for the band's sixth album "Chinese Democracy" which eventually arrived in 2008 following numerous delays.
The band have since revamped the track and given it a new title. They also played it for the first time at a live show at Boston's Fenway Park earlier this week.
This revamp sees the band deliver a frenetic slice of hard rock. Lead vocalist Axl Rose can also be heard shouting the name of the track over Slash's explosive guitar riffs.
"really kind of absurd to try this"
When introducing the track, Guns N'Roses' Axl Rose said this, "Some of you might have heard this under another name, but this is really kind of absurd to try this". 
"Wasn't that funny? And they don't even know the joke yet. Okay, this is called 'Absurd", he added.
New. Fn. Song.
⚡️ ABSUЯD ⚡️
Out NOW. Everywhere.https://t.co/34IcujcmsQ pic.twitter.com/gVh7RUaJ0W

— Guns N' Roses (@gunsnroses) August 6, 2021
Back in December, Guns N'Roses' Slash had said that 2021 would see new music being released by the band.
 "I would like to think that we'd have some new stuff out next year, from both camps. It's hard to say, but I would like to think we'll have some stuff out next year", Slash said at the time.
"Duff McKagan and I did some jamming and we also worked on the Guns record. I've also had a couple of ancillary recordings and jams on top of that, so there's been a lot of stuff going on. I'm really not good at slowing down and just sitting around", he added.
Guns N'Roses Cover Stooges
Guns N'Roses also kicked off their US Tour recently. To mark the opening night of the tour, the band covered the Stooges' track "I Wanna Be Your Dog". This track also saw Duff McKagan on vocals.
As well as performing classic tracks like "Sweet Child O'Mine" and "November Rain", the band also covered Velvet Revolver's "Slither", Wing's "Live And Let Die" and of course Bob Dylan's "Knockin On Heaven's Door".
They finished the night with "Paradise City". More on this story here.