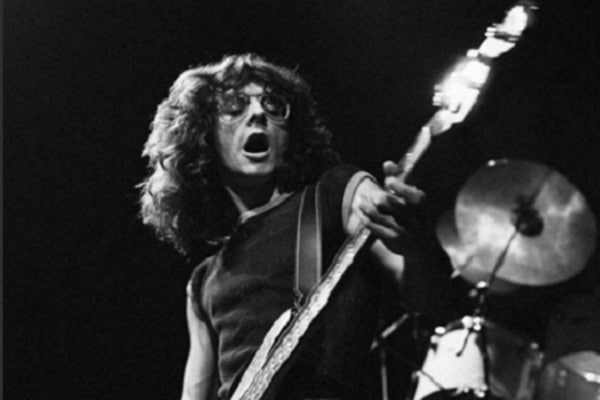 Metallica, Motorhead, King Diamond and others have paid tribute to Budgie's Burke Shelley, who passed away on January 10 aged 71.
Burke's daughter Ela confirmed this news. She released the following statement.
"It is with great sadness that I announce the death of my father, John Burke Shelley. He passed away this evening in his sleep at Heath Hospital in Cardiff, his birth town". 
"Thank you Burke" – Motorhead & Metallica Lead Tributes
Metallica's Lars Urlich had been one of the first musicians to pay tribute to Burke. Metallica's decision to cover Budgie's Bradfan and Crash Course played an integral part in re introducing Burke to a fresh generation of rock and metal fans.
"Thank you Burke for everything you did for heavy music and much next level appreciation for co-writing and creating two songs that Metallica were honored to record over the years, Breadfan and Crash Course In Brain Surgery", Ulrich wrote via Instagram.
The tributes continued in their droves, with Motorhead guitarist Phil Campbell writing this.
"Sad to hear of the passing of Burke Shelley", he wrote. "I played support to them as far back as Persian Risk days. They were pioneers and produced some of the heaviest riffing you could imagine. Thoughts are with his family. RIP welsh hero". 
King Diamond also paid a special tribute to Burke.
"Sad news that one of my true heroes, Burke Shelley, has left us", they posted.
"I had the extreme pleasure to meet in person, Burke Shelley and Tony Bourge of Budgie, in Copenhagen Denmark, December 1975 during the "Bandolier" tour. They gave me after the show a promo postcard of theirs which I asked them to sign, and which is still one of my most prized music related possessions. Budgie has always played on my stereo, and that's not going to change". 
Steve Albini who produced Nirvana, Pixies, Page & Plant and others also took to Twitter. "Requiescat Burke Shelley of the great heavy band Budgie. All their songs were weird and cool and they remained a genuine inspiration through punk and everything after". 
RIP Burke Shelley 🙏 Budgie were one of the early heavy metal prototypes in the early 70's…Kinda a cross between Blue Cheer and early Rush…(and Burke's look & voice often compared to Geddy Lee) Famously often covered by Metallica, but legends in their own right #RIPBurkeShelley pic.twitter.com/3UEeloojo0

— Mike Portnoy 🤘 (@MikePortnoy) January 11, 2022