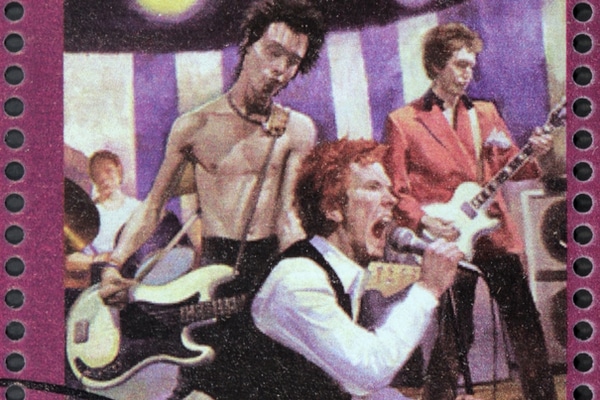 A new trailer from Danny Boyle's upcoming biopic on the Sex Pistols has been released.
This latest trailer offers us further glimpses in what to expect from the six part series, which will premiere on Disney+ on May 31. Check it out below.
The video itself starts off by showing young children running around estates and people riding boats in canals. "England's terribly boring, nothing ever changes", a voiceover can also be heard saying.
"dirt danger and desire"
The trailer also shows Thomas Brodie-Sangster who plays the Pistols' manager Malcolm McClaren telling the band, "With the right guidance you could change the world". 
"My vision for the Sex Pistols is one of dirt, danger and desire. Whether you can play is not the criteria, it's whether you've got something to say", he also adds.
Later in the trailer, footage of rioting and the Pistols running outside Buckingham Palace is also shown, with an announcer stating that "Punk has taken London's youth by storm". 
The band can also be spotted performing against a backdrop of union Jacks, while people riot with the police.
"They can all f*** off" – Johnny Rotten blasts Pistols biopic 
One band member who you might have heard is not so keen on this biopic, is the former Pistols frontman John Lydon aka Johnny Rotten.
Having previously referred to the biopic as a "middle class fantasy", and also claiming that the show's production took place without his consent, Lydon had now blasted his former Pistols bandmates Paul Cook and Steve Jones.
Branding them "dead wood", Lydon blasted the pair for cutting him out of the production.
Lydon also lost a court case where he tried to veto the use of Sex Pistols tracks in the biopic.
"Cutting me out is a shockingly stupid move", he said. "It's so ridiculous. It's so preposterous".
"They can all f*** off. I supported them for years and years and years, knowing they were dead wood". 
Lydon also claimed that any success in their career is solely down to him.
"None of these f***s would have a career but for me", he added. "They did nothing before, they've done nothing since". More on this report here.